Check back often to find plays by women on local stages.
Want us to feature your production?  You got it.
Shows below are arranged by closing date…
THE GIRL IS STILL HERE (A SONG CYCLE) by Gayle Leslie Bluemel and DeVorah Ross Johnsen
Feb. 20 to March 8
2/20 and 2/21 at 8:00 pm
2/27 and 2/28 at 8:00 pm, and 3/1 at 7:00 pm
3/6 and 3/8 at 8:00 pm
The Dorie Theatre at The Complex
6476 Santa Monica Blvd.
Hollywood, CA 90038
Directed by Emily Clark. $15 pre-sale, $20 at the door. The Girl Is Still Here is a fully-rounded and entertaining vision of womanhood and is touched with comedy, tragedy and emotional insight. Meet Debe and Gayle, The Wild One and The Wise, on their road to self-discovery, drawn together in high school by their common interest in music. Through a complex song cycle, we see their lives unfold…. one the free-spirited word-smith and poet, the other the disciplined musician.
http://iamanunknownartist.com/, https://www.facebook.com/events/381663138683119/?ref=br_tf
http://thegirlisstillhere.eventbrite.com
WASHER/DRYER by Nandita Shenoy
Feb. 12 to March 15
Wed, Thurs, Fri, & Sat at 8:00 pm
Sun at 2:00 pm
David Henry Hwang Theater
120 Judge John Aiso St.
Los Angeles CA 90012
Description: Why is Sonya so hesitant to introduce her new husband Michael to the people in her building? Why does the doorman keep calling her about a package in the lobby? Tempers and misunderstanding flare and mayhem ensues as the arrival of Michael's mother, some nosey neighbors, and Sonya's best friend Sam force Michael and Sonya to re-evaluate their relationship and decide whether all is fair in love and real estate in the world premiere of this new farce.
Directed by Peter J. Kuo
Set design by Arturo Betanzos
Costume Design by Sara Ryung Clement
Lighting Design by Rebecca Bonebrake
Sound Design by Howard Ho
Prop Master by Sasha Monge
Stage Manager: Michelle L. Martina
Featuring Ewan Chung, Karen Huie, Rachna Khatau, Nancy Stone, and Corey Wright
Parking is available across the street from the David Henry Hwang Theatre at the Judge John Aiso Underground Parking Garage, located at 101 N Judge John Aiso Street.
Price: $33-38, senior and student discounts available
Buy tickets directly at https://eastwestplayers.secure.force.com/ticket#details_a0Uo0000000eNbjEAE
http://eastwestplayers.org/on-the-stage/washerdryer/
https://www.facebook.com/EWPlayers
https://twitter.com/ewplayers
#washerdryerEWP
SUPERNATURAL: The Play by Candace Kelley, Audrey Kelley, and Gilda Rogers
EXTENDED! Running since July 13!
NEW SHOWS — March 1 to 15
Sundays at 6:00 pm
Chromolume Theatre at the Attic
5429 W. Washington Blvd.
Los Angeles, CA 90016
Ample Street Parking
VOTED TOP 10 BY STAGE RAW
"This is a show that is as fun as it is informative, and in a sense, heart rending. The stories fittingly transcend race, and can be enjoyed by people of all hues."
RECOMMENDED! – STAGE RAW
"The play provides a remarkably balanced portrayal of the progress black women have made in redefining social standards of beauty…some of the most inspiring stories!"
– LIFE IN LA PUBLISHING
***********************************
"Black women, especially black American women, have suffered in very unique ways that underline much of the pain of deciding whether or not to let their hair go natural." –
Rich Quatrone, Strand Theater
"The journeys are very universal and they touch home with women of all textures and ethnic backgrounds." –
Asia Martin, Journalist, Natural Hair Blogger
***********************************
Running time: 85 minutes.
The Play takes you front and center to a natural hair meetup where women share how their hair journeys have shaped who they are today. If you haven't heard, women of color around the world are meeting and talking about natural hair. They are doing it fabulously in droves through hair workshops, hair makeover experiences, hair lectures, hair product testings, and so much more. You name it and women are coming together to celebrate their natural hair. When they meet, they bare themselves by sharing their stories and exchanging information. Simply Google "natural hair meetup" and your search engine's results will be explosive.
Reservations
(323) 960-7738
http://www.supernaturalproject.org/
https://www.plays411.net/newsite/show/play_info.asp?show_id=3867
THE TORTOISE AND THE HARE – A MUSICAL FOR CHILDREN by Carol Weiss
Sundays March 8, 15, 22 & 29
at 2 PM / Saturday March 28 at 2 PM
Nine O Clock Players Theatre For Children
1367 N. St. Andrews Place
Hollywood, CA 90028
A contemporary musical story of Bullying in school.
Book, Music and Lyrics by Carol Weiss, presented by the Nine O' Clock Players.
Director Daniel Smith, Musical Director – Wayne Moore.
Tickets are $12. Free parking. All roles are played by women!
LOVE IN THE KEY OF C# OR Bb by Evelyn Rudie & Chris DeCarlo
Feb. 14 to March 29
Sat at 7:30 pm & Sun at 3:30 pm
The Other Space at Santa Monica Playhouse
1211 4th Street
Santa Monica, CA 90401
A rockin', romantic, ever so-slightly risqué world premiere musical.
Directed by Chris DeCarlo with words & music by Evelyn Rudie (and Matthew Wrather), and choreographed by Cydne Moore.
The ensemble cast features Nicole Cleveland (The Threepenny Opera – California Stage; The Breakup – Sacramento PCS Film Festival), Katy Erin Corbell (People With Issues – Best Comedy Film, WizardWorld Film Fest), Molly Gilman (Pinkalicious – New World Stages; originated the roles of Dr. Wink/Alison, Das Rheingold, Nibelung-Metropolitan Opera), Merri Jamison (We the People With Gloria Alred – NBC; Forever Fosse – Hollywood Fight Club Theatre, Welcome to Happy Valley, Cannes Film Festival) and Melissa Ryan (Waterwalker – Renovatio Pictures; Beauty and the Beast, Regional Tour) with a special guest appearance by Evelyn Rudie* (Backstreet, Love in Bloom, Audition! The Musical).
Admission includes a complimentary glass of champagne (or juice!) and a foil-wrapped chocolate rose.
Tickets $29 – $22.50
LAFPI discount of $8.50 off per ticket with code love15.
Info http://SantaMonicaPlayhouse.com
https://www.facebook.com/SantaMonicaPlayhouse
Tickets at http://SantaMonicaPlayhouse.com or call 310-394-9779 ext.1
PROPERTIES OF SILENCE and "Post Silence" Salon Series by Theresa Chavez, Rose Portillo and Alan Pulner
Feb. 28 to March 29
Thurs, Fri, & Sat at 8:00 pm
Sun at 3:00 pm
The Carrie Hamilton Theatre at The Pasadena Playhouse
39 S. El Molino Ave.
Pasadena CA 91101
About…Productions celebrates by pairing a revival of its critically acclaimed original drama, drama "Properties of Silence" with a "Post-Silence" Salon Series of poetry readings, special performances, panels and discussions. Poetry, science and history meld as famed 17th century poet Sor Juana Inés de la Cruz crosses paths with a contemporary realtor and her pool contractor husband in a multi-layered dreamscape.
General admission: $30
Benefit performance on March 8: $60
Students with valid ID (except March 8): $15
Previews: $15
LOS ANGELES WOMEN'S THEATRE FESTIVAL: Four days of performances by female writer-performers
March 26 to 29
Thurs at 7:00 pm; Fri at 8:00 pm,
Sat at 2:00 and 8:00 pm,
Sun. at 2:00 and 7:00 pm
Electric Lodge
1416 Electric Ave.
Venice, CA 90291
Work by Clarinda Ross, Ingrid Graham, Jovelyn Richards, Karen A. Clark, Megan Dolan, Cheryl Rae Fidelman, Sharrell D. Luckett, Juliette Jeffers, Rachae Thomas, Anu Yadav, Stacie Chaiken, Davina Cole, Ingrid Griffith,Aizzah Fatima, Kyla Garcia, Maria G. Martinez, Katie Wong, Raisa Simpson, Deborah Dutilh, Stephanie Ann Johnson, Marsha Etell.
Tickets $10- $50 (reserve in advance for discount). Limited parking onsite.
www.lawtf.org or 818-760-0408
BACHELORETTE by Leslye Headland
March 20 – April 12
Fridays and Saturdays at 8:00 pm
Sundays at 7:00 pm
The Actor's Company
916 North Formosa Avenue
Los Angeles, CA 90046
Ten years out of high school, Regan, Gena and Katie convene in the luxurious bridal suite of their old friend, Becky, the night before her wedding in New York City. Fueled by jealousy and resentment, the girls embark on a night of debauchery that goes from playfully wasted to devastatingly destructive. Their old fears, unfulfilled desires and deep bonds with each other transform a prenuptial bender into a night they'll never forget. A wicked black comedy about female friendship and growing up in an age of excess.
Directed by Jessica Hanna
Featuring Michael Bates, Hayley Brown, Chris Ferro (U/S), Sarah Latin-Kasper (U/S), Sarah Lyddan, Dane Oliver, Hannah Pell, and Cloie Wyatt Taylor
Tickets $12 before March 13th, $15 afterwards, $18 at door
MineisYourstc.com | @MineisYourstc
THE MILK MEETINGS by Blaire Baron Larsen
March 14th – April 18th
8pm – Saturday nights
Studio C Artists
6448 Santa Monica Blvd.
Hollywood, CA 90038
When new mothers behave badly inside a politically correct breastfeeding support group, sometimes a baby sling isn't the only support needed!
Studio C Artists is proud to present the Los Angeles premiere of THE MILK MEETINGS – a new dramedy by writer Blaire Baron Larsen, directed by John Coppola. Starring Torrie Bogda, Emily Button, Liberty Cordova, Ida Darvish, & Rochelle Leffler
General Admission – $20.00 ($15 Early Bird*)
Approximate running time: 1 hour Street Parking on Hollywood's Theatre Row.
https://milkmeetings.wordpress.com
HELL COUNTY, FLORIDA by  Carla Cackowski
Feb. 6 to April 24
Fri at 8:00 pm
The Second City
560 Hollywood Blvd
Hollywood, CA 90028
Florida is a hell hole. Literally. The devil has retired to Florida and is running amuck, as if the humidity, hurricanes and bugs weren't enough! Ripped from real headlines from the Sunshine State, this original comedic play premiers at Second City Hollywood and is performed by: Rich Baker, Gillian Bellinger, Craig Cackowski, Kevin Hoffman, Hans Holsen, Maya Imani, Monique Madrid, Chrissy Swinko and Irene White.
Written and Directed by Carla Cackowski. Assistant Director, Chris McGowan. Musical Director, Brian Sturges.
Tix $10
"Hell County Florida is a sketch comedy anti-superhero, good versus evil almost love story with a happy ending and a lot of quirks all around. This new and original Second City bonanza written and directed by Carla Cackowski lives up to every moment of pure, hilarious insanity. Not to be missed!" – Gia On The Move
#hellcounty #devilmademedoit @hellcountyfl
Box Office: SECONDCITY.COM or 323-464-8542
Some performances available on goldstar.com.
THE ENGLISH BRIDE by Lucile Lichtblau
March 5 to April 26
Thurs 8:00 pm, Sat 3:00 pm, Sun 7:00 pm
Previews: Feb 28 at 3PM, March 1 at 7PM, March 3 at 8PM
The Road on Magnolia
10747 Magnolia Blvd.
North Hollywood, CA 91601
(Parking in structure or on Riverton Ave.)
The Road Theatre Company is proud to present the West Coast Premiere of THE ENGLISH BRIDE by Lucile Lichtblau, directed by Marya Mazor, and featuring Elizabeth Knowelden, Steven Schub, and Allan Wasserman.
The mystery wasn't what happened; the mystery was why. Inspired by the real-life failed bombing attempt of an El Al flight in 1986, THE ENGLISH BRIDE centers around an Israeli agent's desperate search for the truth as he interrogates an Englishwoman and her Arab lover. Who put the bomb on the plane and why? Deceptions and manipulations abound in what the New York Times calls, "A mystery wrapped in a love story — or the other way around."
SPECIAL GOLAFPI OFFER: $15 TICKETS! (Discounted from regular $34 admission price) To purchase, go to www.roadtheatre.org and enter discount code GOLAFPI at checkout. ***discount applies to any performance except opening night***
https://www.facebook.com/events/325006811043511
To purchase tickets to THE ENGLISH BRIDE, visit www.roadtheatre.org (and enter code GOLAFPI at checkout!) or call 818-761-8838.
WINTERFEST 2015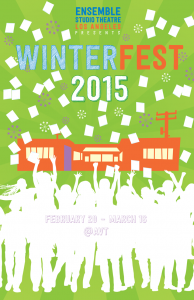 February 21-March 16
Presented by Ensemble Theatre/Los Angeles
Atwater Village Theatre
3269 Casitas Av
Los Angeles CA 90039
All performances are in the Speakeasy!
Free street & lot parking
WINTERFEST is EST/LA's signature festival of member-initiated new work, full-lengths and short plays, presented over four weeks.
This year's festival features 12 works by female playwrights.
http://www.ensemblestudiotheatrela.org
Saturday, February 21
7 pm: INTERVIEWING MISS DAVIS by Laura Maria Censabella
An elderly Bette Davis is looking for a new assistant. With Tamika Katon-Donegal and Eve Sigall. 45 minutes.
8 pm: FLOAT by Mary Unser
As a storm approaches threatening to knock out their power, Henry prepares to manually operate the iron lung that has kept his daughter alive for 58 years. With Liz Ross.
Saturday, February 28
8 pm: BOTTOMS UP by Edith Freni

A sexually frustrated husband takes his wife on a cruise in the hopes of rekindling her desire for him but when the unhappy couple meet the older, and much more vivacious, Phil and Loraine, their quiet, all-inclusive Carribean jaunt takes a turn for the wild. With Sharon Freedman. 90 minutes.
Sunday, March 1
7:30 pm: REPLAY by Halle Charlton
A young woman is challenged to reconcile a past that might have been. Directed by William Charlton, with Kevin Comartin. 45 minutes.
Friday, March 6
7:30 pm: TEMPTED by Jennifer Maisel
Swimming laps becomes a haze of fantasy when Lisa goes to the pool. With Patty Cornell. 15 minutes.
Saturday, March 7
8 pm: MEN & BOXES by Jennie Webb
A dark comedy about a big, messy basement and the siblings in it. Directed by Chuma Gault, with Melinda Page Hamilton, Lauren Campedelli, Cece Tio and Michael Shutt. 90 minutes.
Monday, March 9
8 pm: THE QUALITY OF MERCY by Alyson Mead
When an unarmed black teenager is shot, two families react in very different ways. Directed by Joshua Wolf Coleman, with Karla Mosley, April Grace, Sarah McCarron,Will McFadden and Ian Alda. 90 minutes. An audience talk-back will follow the reading.
Saturday, March 14th
2 pm: Theater for Young Audiences Matinee
WHY WE TELL LIES by Chris DiGiovanni
Directed by Susan Franklin Tanner, with Tamika Katon-Donegal, William Duffy, Pip Lilly, Kim Cheuh, Christopher Fairbanks, Kevin Comartin and Kathleen Coyne. 15 minutes.
SCAREVILLE by Julie Edwards
Milo and Clare find themselves trapped in Scareville one dark, creepy night and their only way out is to conquer their deepest, darkest fears. Directed by Tamika Katon-Donegal, with Kim Cheuh, Pip Lilly, Aidan McCollough, August MadConald, Isaac LaMarr and Kathleen Coyne. 45 minutes. An audience talk-back will follow the reading.
7 pm: TWISTED by Chris DiGiovanni.
The suspenseful story of a man who's gone on a campus murder spree, the woman who's writing a book about the murders – and her growing realization of her son's involvement in the killings. Directed by Susie Tanner. An audience talk-back will follow the reading. 90 minutes.
Sunday, March 15th
5 pm: LET'S EAT by Stevie Stern
Eating lunch becomes impossible when four old friends reunite. Directed by Tom Lazarus with Kathleen Coyne, Kate Fuglei, Patricia Scanlon, Shannon Sullivan and Heather Robinson. 40 minutes.
Monday, March 16th
8 pm: THE COMMON TERN by Keliher Walsh.
Two brothers and a sister meet at their secluded summer island home to scatter the ashes of their parents.  90 minutes.
WINTERFEST 2015 also features works by Garrett Brown, Robert Nelson, Stephen Dierkes, Graham Sibley, Eric Rudnick, J. Holtham, Keith Szarabajka, Dean Donofrio, Don Ponturo, Tom Baum, Colin Mitchell, Tom Lazarus & Harold Peter Elbling, and a late-night performance of "In Search of doG," a space soap opera conceived and staged by Keith Szarabajka in collaboration with Tom Baum, Stephen Dierkes, Marek Glinski, Tony Pasqualini, Deborah Pearl and the EST/LA Playwrights Unit.
No reservations necessary. Donations accepted at the door.

For directions and parking, CLICK HERE
ONE NIGHT ONLY!
TRESPASS by Meagan Daine
Friday, March 20 at 8:00 pm
North by South Theatre
in residence at The Parish Church of St. Mark
1020 N. Brand Blvd.
Glendale, CA 91202
North by South Theatre presents a staged reading of TRESPASS by Meagan Daine, directed by Josh Shaw, Friday, March 20 at 8PM. Parking and admission are free.
Late one night, on an isolated ranch in the Eastern Sierra, Rebecca Keller and her husband, Hank, are disturbed by a stranger at the door. To keep Rebecca safe, Hank locks her in a back room and then answers the door… only to find that the visitor is Rick Youngblood, someone Rebecca used to know very well indeed.
Over the course of one interminable night, as Hank struggles to keep Rebecca and Youngblood apart, delusions about the life he and his wife have led begin to unravel. Rebecca, after years of silence, begins to speak. Her words will force him to face painful truths about himself and his forgotten sins, and Hank must hear them at last to have any hope of finding redemption.
CHECK BACK SOON FOR MORE POSTINGS!
Tweet