Check back often to find plays by women on local stages.
Want us to feature your production?  You got it.
Shows below are arranged by closing date…
SANS MERCI by Johnna Adams
April 4 to 26
THURSDAYS, FRIDAYS, &
SATURDAYS @ 8 pm
The Garage Theatre
251 E 7th St.
Long Beach, CA 900813
Tracy and Kelly, students at UCI, are emotionally joined together to undertake a humanitarian mission, when an imperceivable, ill-fated tragedy tears the girls apart. Not until years later, the lone survivor and the other's mother, slowly dance, mourn and recognize their love, their loss, and their loss of love. Join us as we explore an imperceivable journey through the dichotomy of chaos and beauty, that co-exist in our world. Directed by Katie Chidester.
(562) 433-8337 or email contact@thegaragetheatre.org are the contacts for reservations for subscribers. Or to purchase tickets for a specific evening you can buy tickets at thegaragetheatre.org or 866.811.4111. Thanks so much!
www.thegaragetheatre.org
https://www.facebook.com/pages/The-Garage-Theatre/101020162682
@garagetheatre
$18 GENERAL
$15 STUDENTS/SENIORS/TEACHERS
TALHOTBLONDE by Kathrine Bates
March 7 – April 26;
Fri & Sat @ 8pm,
Sun @ 2pm
Ruskin Group Theatre
3000 Airport Avenue
Santa Monica, CA 90405
World Premiere!
An EMMY Award winning journalist stumbles on a plot that towers all others. Based on a true story, playwright Kathrine Bates crafts this stunning account of lust, lies, and fantasies into a World Premiere production at Ruskin Group Theatre. Sex and obsession, indulged through an erotic relationship on the Internet leads to explosive consequences, becoming a cautionary tale for the times we live in.
http://www.ruskingrouptheatre.com/component/content/article/5-now-playing/68-talhotblond
Tickets: $20-$25
(310) 397-3244.
THE LAST ACT OF LILKA KADISON by Abbie Phillips
with Nicola Behrman, David Kersnar, Heidi Stillman, Andy White
Extended through April 27!
Wed – Sat at 8pm, Sun at 4pm
No performances Sunday April 20, Wednesday, April 23 or Thursday, April 24.

Falcon Theatre
4252 Riverside Dr
Burbank 91505
At age seventeen, Lilka Kadison flees Poland on the eve of World War II. Seventy years later in Los Angeles, she's spending her afternoon hassling her son, wrestling her caregiver, and arguing with the ghost who keeps rearranging her furniture – and her memories. Join us on this journey about the power of story, humor and grace in the face of loss. Originally premiered at the Tony Award winning Lookingglass Theatre.
David Kersnar, Abbie Phillips,
Heidi Stillman, Andy White
http://falcontheatre.com/Lilka_Kadison.html
https://www.facebook.com/falcontheatre
@Falcon_Theatre
$32-$42
Tickets online at http://falcontheatre.com/Lilka_Kadison.html or call 818.955.8101
TOP GIRLS by Caryl Churchill
March 6 – May 4;
Thurs & Fri @ 8pm;
Sat @ 2pm & 8pm; Sun @ 2pm
ANTAEUS THEATER
5112 Lankershim Blvd.
North Hollywood CA, 91601
Antaeus. L.A.'s classical theater ensemble, kicks off its 2014 season with a fully partner-cast production of the award-winning comedy by Caryl Churchill. Politics get personal in the go-getting 1980s of Margaret Thatcher's England when Marlene, who has just been made managing director of the Top Girls Employment Agency, discovers that life above the glass ceiling is not all it's cracked up to be.
www.antaeus.org
www.facebook.com/AntaeusTheater
Tickets: $15-$34
(818) 506-1983
JEALOUSY (SJALUSI) by Esther Vilar
April 18 – May 4;
Thurs & Fri @ 8pm;
Sat @ 2pm & 8pm; Sun @ 2pm
[Inside] the Ford
2580 Cahuenga Blvd. East
Hollywood, CA 90068
Deaf West Theatre has partnered with with Teater Manu of Norway in offering a ASL version of their smash hit production from Norway. Three women living on different floors of the same luxurious high-rise have never met, but the trio is inter-connected by their secrets, a man and a feisty email conversation. It's a story as truthful as life, love and jealousy itself, filled with forbidden emotions, desire and passion.
General admission: $30
Students with valid ID: $25
THE HEBREW HILLBILLY by Shelley Fisher
Friday February 28
Saturday March 22
Saturday May 17
all shows 8:00 p.m.
The Santa Monica Playhouse
1211 4th St.
Santa Monica, CA 90401
http://www.santamonicaplayhouse.com/map–directions.html
The Hebrew Hillbilly, written and performed by singer songwriter Shelley Fisher, is a musical one woman show which chronicles Ms Fisher's Hollywood odyssey that begins in the heart of the Mississippi Delta in her hometown of Memphis, Tennessee, birthplace of Rock 'n' Roll, Blues and Bar-b-cue. Growing up Jewish in the deep South with a flamboyant mother who frowned on her dating the local redneck boys, the Hebrew Hillbilly begins singing as a little girl and never stops. From her early years as a blonde bombshell, through her current incarnation as The Memphis Belle of L.A., Ms Fisher has been on a show business rollercoaster that slows down just long enough for her audience to climb on board this deeply personal, yet universally appealing and hilarious ride. The production is directed by Chris DeCarlo and produced by Debra Ehrhardt, with 14 original songs written by Shelley Fisher, Kenneth Hirsch, and Harold Payne.
http://www.brownpapertickets.com/event/414931
EVERYTHING YOU TOUCH  by Sheila Callaghan
April 12 through May 11
Thursdays through Saturdays at 8pm
Sundays at 2pm.
The Theatre @ Boston Court
70 N.Mentor Ave, Pasadena, CA 91106
A World Premiere Co-Production with Rattlestick Playwrights Theater.
Victor is a ruthless fashion designer in the 1970s at the top of his game. Esme, his glamorous protégé and muse, is pushed aside when an ordinary Midwestern woman inspires Victor to make his artistry accessible to the masses. A generation later, a woman grappling with a healthy dose of self-loathing must wrestle her own family demons to find her way through the world of fashion that won't give a woman her size a second look. Skipping back and forth in time, Everything You Touch is a viciously funny look at the struggle to find an identity that's more than skin deep.
http://www.bostoncourt.com/events/194/everything-you-touch
Featuring: Allegra Rose Edwards, Amy French, Chelsea Fryer, Arthur Keng, Candice Lam, Kate Maher, Tyler Pierce, and Kirsten Vangsness
Casey Kringlen, Assistant Director; Julia Flores, Casting Director; Francois-Pierre Couture, Set Designer; John Burton, Properties Designer; Jenny Foldenauer, Costume Designer; Jeremy Pivnick, Lighting Designer; Adam Flemming, Video Projection Designer; John Zalewski, Sound Designer; Jenny Smith, Production Stage Manager
BostonCourt.org for tickets or call 626-683-6883
PREMEDITATION by Evelina Fernandez
April 17-May 11th
Thursday-Saturday 8:00pm
Sundays at 3:00pm
The Los Angeles Theatre Center
514 S. Spring Street 90013
Fifty percent of marriages end in divorce, but how many end in murder?
Premeditation is a dark romantic comedy for anyone whose significant other has ever left dirty underwear on the bathroom floor.
Starring Sal Lopez, Lucy Rodriguez, Geoffrey Rivas and Evelina
Fernandez.
http://thelatc.org/2014/shows/premeditation/ Facebook: https://www.facebook.com/theLATC Twitter: @TheLATC
General Admission | $40
Students, Seniors, Veterans, Groups 10+ | $20
$10 Thursdays (Limited number available)
Previews | $20
LATC Members | $20
For tickets visit TheLATC.org or call (866)811-4111
SOVEREIGN BODY by Emilie Beck
April 4th through May 24th
Fridays and Saturdays at 8:00PM,
Sundays at 2:00PM
The Road Theatre
5108 Lankershim Blvd
North Hollywood, CA 90601
A wife and mother of two grown daughters welcomes an uninvited Thanksgiving dinner guest. A family's life is forever challenged and changed.  Is she losing her mind and body or is she owning them once and for all?  SOVEREIGN BODY is an epic story of a family's journey to healing.
www.roadtheatre.org
https://www.facebook.com/events/608631169206444/
@roadtheatre
World Premiere Play by Emilie Beck, Directed by Scott Alan Smith. Executive Producers Sam Anderson and Taylor Gilbert. Produced by Kevin Shipp.
Street parking is available surrounding the venue. Sovereign Body is the first play of the Road Theatre's 2014 season in our Lankershim space!
Visit Roadtheatre.org for ticket and box office information.
JOIN US FOR THE FOLLOWING SPECIAL EVENTS!
Friday nights: Wine receptions after the show!
Enjoy a complimentary glass of wine and meet members of the cast and crew.
Sunday, April 13 at 2pm — Tax Relief Day! 
All advance tickets are $10!  Available now online!
Pay What You Can at the door.  All remaining tickets go on sale at 1:30pm.  Cash only, subject to availability.
Sunday, April 20, at 2pm – EASTER
Q&A Talkback after the show with the playwright, cast and director.
Sunday, May 11, at 2pm – MOTHER'S DAY
Buy One Ticket (for Mom!) and Get One Free (for you).  Use code MOTHERSDAY.  Plus, a Q&A Talkback after the show with playwright Emilie Beck.
WAKE by Carey Crim
April 26-May 25, 2014,
Thurs/Fri/Sat @ 8pm, Sun @ 3pm
Fremont Centre Theatre
1000 Fremont Ave. Ste. 100,
South Pasadena, CA 91030
WEST COAST PREMIERE!
Molly Harrison is an agoraphobic mortician, anchored to the safety of her funeral home for over three years. Her vivacious mother and precocious teenage daughter try in their own humorous ways to help her take that first step down the front walk, including hypnosis, sensory-overload therapy and a trip to Moscow. But in the end, Molly must realize what is truly important in her life before the power of love can finally inspire her to embrace the world again. Presented by SeaGlass Theatre.
www.FremontCentreTheatre.com/@FremontCTheatre/@SeaGlassTheatre
We are also hosting a "High Tea" on our Mother's Day Performance!
Regular tickets $25, student/senior $20.
Preview Friday, Apr. 25 @ 8pm – $12.50.
Opening Night Saturday, Apr. 26 @ 8pm –$35.
The Fremont Centre Theatre is located on the corner of Fremont Ave. & El Centro, (north of Monterey Road) in South Pasadena. Free lot and street parking.
Tickets: www.FremontCentreTheatre.com or call 1-818-533-8441.
LAMENTATIONS OF THE PELVIS by Sibyl O'Malley
as one of two plays in WOMAN PARTS — a double-bill
April 26 – June 1, 2014
Fridays and Saturdays @ 8pm
Sundays @ 3pm
Monday performances May 5 & 19 @ 7pm
Son of Semele Theater
3301 Beverly Boulevard
Los Angeles, CA 90004
Son of Semele Ensemble (SoSE) presents an evening of potent and provocative one-acts by female playwrights, directed by women:
• In the U.S. premiere of Linda McLean's Sex & God, the interwoven voices of four Scottish women create a haunting symphony of the 20th Century as they confront — and transcend — the limits of their times.
• Lamentations of the Pelvis, a world premiere by LA playwright Sibyl O'Malley, sets a group of women on a funny and phantasmagoric quest for companionship, security and a life beyond gender.
Together, these plays celebrate the resilience and transformative potential of women, embracing the struggles of the past and imagining the possibilities of the future.
https://sonofsemele.secure.force.com/ticket
AJAX IN IRAQ  by Ellen McLaughlin
May 8 through June 1
Thursdays, Fridays and Saturdays at 8 p.m.
Sundays at 5 p.m.
Miles Memorial Playhouse
1130 Lincoln Blvd.
Santa Monica, CA 90403
(just north of Wilshire Blvd.)
NOT MAN APART Physical Theatre Ensemble
Many female combatants in the U.S. Armed Services are subjected to intense sexual abuse, but remain quiet. Not Man Apart Physical Theatre Ensemble opens its 2014 season with a Los Angeles premiere directed by artistic director John Farmanesh-Bocca. Ajax in Iraq by award-winning playwright Ellen Mclaughlin opens at the Miles Playhouse in Santa Monica for a four-week run on May 8.  Ajax in Iraq intertwines the important and timely issue of sexual abuse against women in the military with the parable of the great warrior Ajax, which is said to be one of the first and oldest stories to openly portray the effects of post-traumatic stress disorder.
NotManApart.com or call (818) 618-4772
Join us on Facebook at http://www.facebook.com/notmanapartphysicaltheaterensemble
Follow us on Twitter @notmanapart
Written by Ellen Mclaughlin
Directed by John Farmanesh-Bocca
Choreography by John Farmanesh-Bocca, Jones Welsh and NMA Company
Starring Steven Beaudion, Emma Bell, Alina Bolshakova, Chelsea Brynd, Laura Covelli, Eric Naficy Dyrhsen, Kyle Gladfelter, Aaron Hendry, Brandon Hitchcock, Ashphord Jazoway, Courtney Munch, Dash Pepin, West Perkinson, Camron Robertson, Carol Sparkman, Ivanna Wei, Jonathan Wong
Presented by Not Man Apart Physical Theatre Ensemble
General Admission: $25;
Student Rush Thursdays: $10
NotManApart.com or call (818) 618-4772
HIT by Alice Tuan
World Premiere!
May 15-June 8
Thr-Sat at 8:00pm,
Sunday at 3:00pm
The Los Angeles Theatre Center
514 S. Spring Street
Los Angeles, CA 90013
https://www.facebook.com/theLATC Twitter: @TheLATC.org
Sex, excess and Zankou Chicken. Family dysfunctions unravel when an ill-fated collision on the freeway swerves into a wild ride of epic proportions. And you thought the 405 freeway was a mess!
By Alice Tuan
Directed by Laurel Ollstein
Produced by The Los Angeles Theatre Center
Previews May 15, 16 | Opens May 17
Thursday – Saturday 8pm | Sunday 3pm
General Admission | $40
Students, Seniors, Veterans, Groups 10+ | $20
$10 Thursdays (Limited number available)
Previews | $20
LATC Members | $20
For Tickets visit TheLATC.org or call (866)811-4111, for information call (213)489-0994
TURNING THIRTY by Lisa Phillps Visca
Previews April 19 – May 4
Opening May 11 & playing through June 29
The Other Space at Santa Monica Playhouse
1211 4th Street
Santa Monica, CA 90401
Santa Monica Playhouse and director Chris DeCarlo team up once again with local Playwright, Lisa Phillips Visca, to present the World Premiere of Turning Thirty, an irresistible comedy about love, family, and a trust fund.
All previews $20, General Admission $29
Tickets online at http://SantaMonicaPlayhouse.com  or call 1-310-394-9779 x1

https://www.facebook.com/SantaMonicaPlayhouse
Pacific Playwrights Festival 2014

 April 25 -27
South Coast Repertory
655 Town Center Drive
Costa Mesa, CA 92626
South Coast Repertory's annual Pacific Playwrights Festival (PPF) marks its 17th year as a major national showcase for new plays. This year features readings by 3 women playwrights, as well as a full production by a female playwright.
Visit  www.scr.org/plays/pacific-playwrights-festival/2014-pacific-playwrights-festival
Friday April 25
 Reading at 1 p.m., on the Segerstrom Stage
ZEALOT by Theresa Rebeck
directed by Marc Masterson

At the British consulate in Mecca, a tactical tea is interrupted by news of nearby violence.  When a witness seeks asylum, a diplomatic battle of wits ensues, while a life hangs in the balance.
Reading at 3:30 p.m., on the Segerstrom Stage
FUTURE THINKING by Eliza Clark
directed by Lila Neugebauer

Chiara, the spoiled starlet. Peter, her obsessed, middle-aged stalker-fan. Add a stage mother, a bodyguard with a past and a security guard who really wants to be a cop, and fantasies collide—with each other and with reality.
Sunday, April 27
Reading at 10:30 a.m., on the Segerstrom Stage
OF GOOD STOCK by Melissa Ross
directed by Lynne Meadow
Three sisters and their respective partners gather for the weekend at their late father's house in Cape Cod. As the drinks flow, so do the family feuds, witty banter and surprising confessions
April 13–May 4
World Premiere production on the Julianne Argyros Stage
Click Here for Performance Calendar & Showtimes

FIVE MILE LAKE by Rachel Bonds
directed by Daniella Topol
Jamie enjoys a quiet life in his small Pennsylvania town, fixing up his grandfather's old lake house and pining after Mary, his troubled coworker. When his brother comes back to town with a new girlfriend, Jamie's peaceful world is turned upside down. A tender story about those who stay and those who go away.
 Tickets for readings are $16 each. Tickets for full productions range in price from $20 to $72.
Packages to see all four readings and the Nicholas production are available for $75, $65 for Super Subscribers by calling the box office at 714-708-5555 or purchasing online here.
https://www.facebook.com/SouthCoastRepertory
@SouthCoastRep
Acting Out INK Fest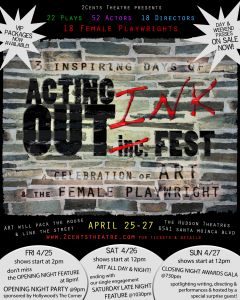 April 25 -27
Hudson Backstage Theatre
6539 Santa Monica Blvd
Los Angeles, CA  90038
Valet Parking
A Celebration of ART & the Female Playwright!
22 plays. 18 directors. 52 actors. 18 female playwrights.
3 inspiring days of Acting Out INK!
For more info & schedule, visit www.2centstheatre.com
PLAYWRIGHTS & PLAYS:

Deanna Ableser – PLASTIC FLOWERS
Meghan Brown – OPEHELIA and JACK'S LAST NIGHT
Darcy Parker Bruce – 6000 FT TO SLEEP
Shaheen Chamarbagwala – DIRTY TALK
Dee Jae Cox – I PASSED
Megan Fevurly – HOME
Anne Flanagan – KARMA
Sharon D. Johnson – LEGACY
Correne Kristiansen – MIXED SIGNALS
Abby Lorenz – DEATH ANGEL
Alyson Mead – LIL BOO
Cathleen Meredith – MISSING and LEGEND
Jan O'Connor – GARDEN OF ASHES and ANGELS FLIGHT
Tiffany Roberts – THE THINGS I'VE DONE and FIRE BALLET
April Smallwood – RUSS MILES
Crystal Smith-Connelly – TILL DEATH DO US PART
Jeanne Taylor – THE ESTROGEN MAP
Debra Wiess – ONE
Directors for the plays are Nick Acciani, Kristen Boulé, Katie Bowman, Dee Jae Cox, Reena Dutt, Josh Galitsky, Dennis Gersten, Peter Kuo, Gary Lamb, Kitty Lindsay, Alli Miller, Shaunessy Quinn, Katie Rubin, Kevin Sifuentes, Laura Stribling, Corby Sullivan, Michael Wise, and Tracy Woodward.
Acting Out INK Fest is produced by 2Cents Theatre Company, with the support and fiscal sponsorship of Los Angeles Women's Theatre Project.
For INK Fest tickets and more information, visit:  https://www.plays411.net/newsite/show/play_info.asp?show_id=3786
https://www.facebook.com/events/1452656784970755/
ONE NIGHT ONLY!
EVERYTHING YOU ALWAYS WANTED TO KNOW ABOUT CHINESE PEOPLE BUT WERE AFRAID TO ASK by Fei Kayser
April 29, 2014, 8 PM
The Pasadena Playhouse
39 South El Molino Avenue
Pasadena, CA 91101
http://www.pasadenaplayhouse.org/visit-us/directions-and-parking.html
GREENHOUSE at THE PLAYHOUSE
In Partnership with University of Southern California's School of Dramatic Arts

As the culmination of a year-long process of development, artistic mentoring, and experimentation, GREENHOUSE at The Playhouse will feature staged readings of new plays written by the three first-year students in the Master of Fine Arts in Dramatic Writing program of the University of Southern California School of Dramatic Arts.
Check back soon for more details.
Reservations: hothouse@pasadenaplayhouse.org
SILENT WITNESSES by Stephanie Satie
Saturday, May 10 @ 8 p.m.
Odyssey Theatre
2055 S. Sepulveda Blvd.
Los Angeles CA 90025
Writer/performer Stephanie Satie gives voice to four extraordinary women in her award-winning solo play. How do cataclysmic events affect personal lives? Based on interviews and conversations with child survivors of the Holocaust, Silent Witnesses paints an uplifting portrait of human resilience shaped through the eyes of children and infused with the wisdom of the adults they've become.
Stephanie and director, Anita – Winner of the Women in Arts and Media Coalition Collaboration Award.
www.efugeestheplay.com click on Silent Witnesses, directed by Anita Khanzadian
General admission: $30; Seniors: $25; Students: $20
(310) 477-2055 ext. 2 OR www.refugeestheplay.com
Student and Senior tickets available only via the Box Office by phone or in person
BEST OF PLAYGROUND GALA
Monday, May 12th at 7:30 PM
Origin Story by Tiffany Cascio
Little Swan, a Pas de Deux by Allie Costa
If I Were a Man by Mercedes Segesvary
Zephyr Theatre
7456 Melrose Ave.
Los Angeles, California 90046
Also
A Change of Heart by Vincent Terrell Durham
Mass Effect by Forrest Hartl
A David Lynch Family Christmas by Mark Sherstinsky.
PlayGround-LA, Los Angeles's incubator for a new generation of playwrights, caps off its second season on Monday evening, May 12 at the Zephyr Theatre with the second annual Best of PlayGround, a one-night gala celebration of the best playwrights and short plays selected from more than 100 submissions and 36 works developed as part of the season's Monday Night PlayGround staged reading series. The Gala will feature an all-star performance of the six Best of PlayGround winners and a post-show reception with the performers and playwrights.
Tickets start at $50 and are available through the Box Office at 323-992-6766 or online at http://www.PlayGround-LA.org/bestof/
http://blog.playground-la.org/2014/04/best-of-playground-gala-announced.html
https://www.facebook.com/playground.losangeles
https://twitter.com/PlayGround_LA
323-992-6766
CHECK BACK SOON FOR MORE POSTINGS!
Tweet