Click Here to check out the latest addition to The FPI Files. Know a female or FPI-friendly theater, company or artist who deserves attention? Contact us at lafpi.updates@gmail.com.
SOSE Solo Creation Festival Brings Women Artists Together

If you've been hanging around the LA theater scene and feeling a burst of cozy femme energy lately, it might very well be coming from Son of Semele.
Yep. SOSE has been on LA FPI's radar for awhile now. For the last five years, well over 50% of the company's productions have been written by women. Add to that their annual Company and Solo Creation Festivals, and we're seeing a whole lot of women artists at work at their tiny space on Beverly Boulevard.
The 2016 Solo Creation Festival runs from July 14-31, so we decided to chat with SOSE company member and Festival Manager Ashley Steed (who is, herself, a femme force to be reckoned with!).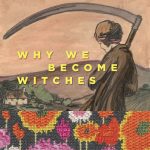 LA FPI: How long has the Solo Creation Festival been around?
Ashley: This is the third year of the Solo Creation Festival (SCF) and I've been producing it since day one. The Company Creation Festival (CCF) began back in 2010 as a way to incubate new, ensemble-based work that was bold and innovative. In the first years, we had solo artists apply and it didn't feel like that was the right avenue for solo work. That's when SOSE Artistic Director Matthew McCray asked me to produce the SCF. The first year the application was completely open, with very little requirements. Since then, we've fine-tuned the application specifically looking for shorter pieces and with either brand new works or works in progress.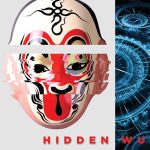 LA FPI: This year's SCF features 9 works, 5 written by women, 5 directed by women and 6 performed by women. How does that stack up against the first two years?
Ashley: Although I don't specifically seek out to have any sort of quota for women, I am very mindful of the types of voices we're giving a platform to. My main focus is having a wide range of voices, experiences and styles of performance. Last year we only had 3 written (and performed) by women, however we also had more artists of color. The first year we had 6 out of 9 written (and performed) by women.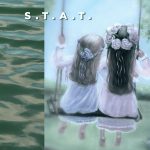 The thing I love most about this festival is that no two shows are ever alike. Each week is programed with 3 very different pieces that somehow manage to complement each other – we try to make it so that you're experiencing a range of styles and content. The artists also have a chance to build connections and friendships and many go on to support each others' work. We've had a number of participants go on to other fringe circuits or get produced by other theatre companies – which is exactly why our festivals exist.
LA FPI: How did the women writers involved this year come to you?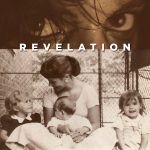 Ashley: Everyone selected this year are first time applicants, most of whom heard about us through company members, past participants, and through social media. I'm also delighted to say that all of the participants created work specifically for our festival, which means solo artists are coming to us with the sole intention of presenting new work. Something that I've noticed about the pieces from our women this year is that they are unabashedly from the female perspective. They show women as strong, yet sensitive; as curious, broken, yearning, and brave. In other words, they each showcase the vast array of what "womanhood" means and how we can use our voices and bodies and imaginations to tell stories.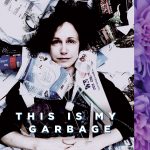 LA FPI: Insofar as supporting different artists and stories, is gender parity and diversity something SOSE is working toward, intentionally?
Ashley: I don't think it's necessarily a conscious choice for gender parity, although we do talk about it as a company – our main focus is producing work that speaks to us and there are a number of women out there writing exciting, nuanced, and juicy material – the kinds of things we like to sink our teeth in to. We have a lot of women in the company (including Literary Manager Barbara Kallir) who are very active in terms of leadership and opinions so I think that's probably an unconscious force leading the company.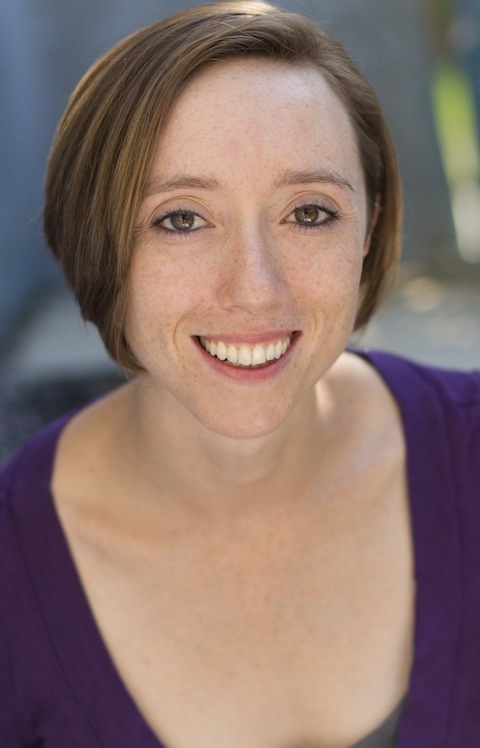 For me, personally, it's more a question of diversity – does the stage reflect this wonderfully diverse city (which automatically include gender parity. After all, we are half the population!).
Featuring works by women playwrights Kate Motzenbacker & Sal Nicolazzo, Svitlana Zavialova, Jasmine Di Angelo, Kelsey Rose Siepser and Brenda Varda, SOSE's Solo Creation Festival runs July 14-31 at Son of Semele, 3301 Beverly Boulevard (@ Hoover) in Silverlake. Performances are Thursday-Saturday @ 8PM; Sunday @ 5PM. For more info, visit www.sonofsemele.org
Click Here for the Full Schedule

New Numbers: 11 of 12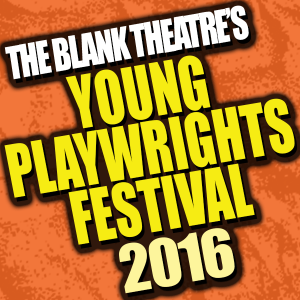 The Blank's 2016 Young Playwrights Festival
Now in its 24th year, The Blank Theatre's Nationwide Young Playwrights Festival – a 4-week celebration of playwrights 9-19 – gets a lot of attention for lots of reasons. At LA FPI, we're always proud to crow about 50% or more female playwrights being on the bill. But this year, YPF has raised the bar: 11 of 12 playwrights are young women! We thought we should meet some of these playwrights, throw some questions at them each week. We're definitely liking the answers we're hearing.
Week 4 (June 23-26) : Gabrielle Poisson (DOESN'T THAT SOUND LOVELY?) & Lani Kording (OVEREXPOSURE)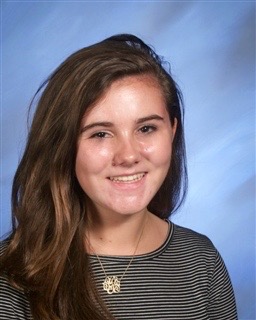 LA FPI: How did you find out about the Blank's YPF?
Gabrielle: I won the New Jersey Young Playwright's Contest last summer, and had my play produced by the Writer's Theatre of New Jersey. It was one of the most exciting experiences of my life, so in the fall I went online and researched. I found out about this festival, submitted a play with fingers crossed, and have been pinching myself ever since because it's just so unbelievable to me that this is my life right now.
Lani: It was something I had known about for a while but never entered because I didn't think any of my plays were good enough but then a year later my teacher Tira Palmquist encouraged me to enter. I wish I had been involved before because this has been such a wonderful experience.
LA FPI: What is your play about, in 11 words or less?
Gabrielle: Adrianna doesn't want to be a mother. Leaving isn't so simple.
Lani: An epic popcorn battle of mass proportions.
LA FPI: Do you think being a female playwright affects the kind of plays you write?
Gabrielle: No two people can write the same play because no two people see the world through the same eyes. Being a girl is a part of who I am so of course there are going to be themes about gender in my work, but I do not allow my gender to limit me. People always tell me that I write pretty dark stuff for "a tiny little girl." My goal is to tell stories. I don't see myself as a female playwright, just a playwright like any other.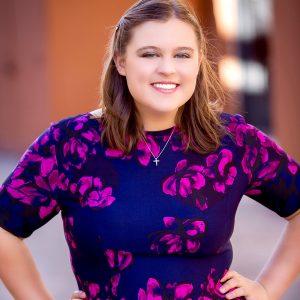 Lani: Yes? I think? My plays tend to be focused around women. I tend to write from the female perspective, if that makes sense. I attended the AWP Conference recently (more on that later) and went to a panel about gender parity in the theatre and one of the panelists mentioned how many female playwrights write in a different style than the traditional play, and that tends to be the case for my plays, especially my longer ones. So, yes? I think being a female playwright affects the kind of plays I write, in more ways than one.
LA FPI: What has surprised you most about the YPF process, working with your mentor, director, and actors?
Gabrielle: It's so exciting for me how professional everything is. The fact that we're teenagers has no bearing on how legitimately our work is taken. Watching the actors work their ways into their characters, seeing the director study my script and add her own artistic vision, receiving such wonderful and extensive feedback and support from a mentor, it becomes clear that producing my play is not a courtesy to me as some kid who wrote a half-decent play but the type of dedication that I'd receive in the real world.

Lani: What's surprised me the most is how right it feels. Like, being in the rehearsal room with my director and actors, it feels like this is what I'm supposed to be doing. What's also surprising is how much I've learned, not only about writing but directing and production. My director Laura Stribling is an amazing director; my mentor Adam Lapidus let me sit in on a read through for Bunk'd, the TV show he's an executive producer for. I'm planning on pursuing both playwriting and television writing, so both of these experiences have been completely and absolutely incredible.
LA FPI: 11 of 12. How does it feel being part of "The Young Girl's Club?"
Gabrielle: I think it's so great. Knowing that there is a severe imbalance in terms of gender representation in playwriting, I love that this festival is providing a whole host of new, female voices. The idea that we're going to face difficulties sharing out stories on the professional level just because we're women is heartbreaking for me. I'm so so honored to be a finalist this year along with some other really accomplished and inspiring women. I think with this honor is also the responsibility to continue fighting for our voices to be heard as we transition to pursuing a professional career in playwriting in the future.
Lani: I love that they're calling it The Young Girl's Club, and I absolutely love being a part of it.
On a side note, I'm am ridiculously excited that the LA Female Playwrights Initiative is doing this because at the gender parity in theatre panel at AWP, they were some of the main panelists and I was extremely inspired by what they had to say. After that panel I was hoping that maybe one day in the distant future one of my plays would be featured on that website and that distant future is not so distant at all and I'm on cloud nine.
LA FPI: And we're thrilled to be able to support you and your play, Lani! Congratulations and we can't wait to see what's next for ALL of you amazing, femme forces!
Click Here for Tickets to The Blank's YPF Week 4:
DOESN'T THAT SOUND LOVELY?
by Gabrielle Poisson (Age 16), Boonton Township, NJ
OVEREXPOSURE
by Lani Kording (Age 18), Costa Mesa, CA
STICK AND POKE
by Johanna Stone (Age 17), Altadena, CA
Week 3 (June 16-19) : Charlotte Leavengood (LAZY BOY) & Ariella Carmell (LOVELY MADNESS )… and Dylan Schifrin (GWENDOLYN)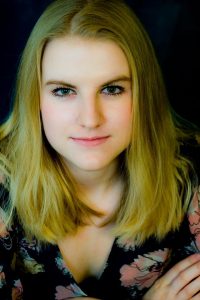 LA FPI: How did you find out about the Blank's YPF?
Charlotte: My father is my playwriting teacher at my high school. He has had past students win this competition, and he had me start entering it, too. I'm very glad he did. I hope to stay involved even after I age out of the competition.

Ariella: In 2014, I attended the Kenyon Review Young Writers Workshop, where I met Zoe Cheng, who had won that year, and I was just so impressed that she had gotten a play produced so young. I won last year, and it was definitely one of the best times in both my writing life and just my life in general.
LA FPI: What is your play about, in 11 words or less?
Charlotte: Two boys facing life's harsh reality and their true selves.
Ariella: Student confronts professor about their past relationship: neither can confront themselves.
LA FPI: Do you think being a female playwright affects the kind of plays you write?
Charlotte: Not in the least bit. The only way it plays into my writing is that people get surprised when they realize that the one who wrote that dark piece is a blonde girl from Florida. I feel like sometimes society has this expectation for girls to stay bubbly and light. However, I've been raised to believe that the word girl doesn't define us, we define the word girl.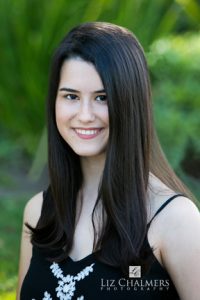 Ariella: Absolutely. I firmly believe that the female experience has been historically underrepresented, misconstrued, or simply dismissed, and this is why I feel no qualms about writing more women characters than men. There's such a lack of empathy when it comes to women's stories, and so much of "Nobody would want to read or watch that," which is heartbreaking because there's so much nuance in just existing day-to-day as a woman in any society.
LA FPI: What has surprised you most about the YPF process, working with your mentor, director, and actors?
Charlotte: Everyone was so unbelievably kind and supportive. It's a part of theatre and writing that I have always admired. Everyone is respectively collaborating, and we are all learning so much for each other. As a writer, I usually just sit alone in my bedroom and write. When I got here, it was a totally different story.

Ariella: I've matured enormously as a writer throughout this entire process. My mentor Beth Bigler pushed me to revise, revise, revise, from bolstering the characters to tightening every line. The most exciting (and surreal) part, though, is sitting in rehearsals, hearing my director and actors discuss my play as though it were written by Chekhov or Tennessee Williams. I'm becoming the writer I've always wanted to be, all thanks to YPF.
LA FPI: 11 of 12. How does it feel being part of "The Young Girl's Club?"
Charlotte: It feels great. I feel so inspired when I read the bios of my fellow winners because they are such incredible women, and I am so honored to be associated with them. I hope to stay in contact with them because I know that each and everyone of these girls, and, of course, our fellow young man, are going great places. I mean, they're already doing amazing things. It's fantastic to be surrounded by hard-working and creative minds.
Ariella: It's thrilling! To be honest, most of the young writers I know are girls, and I've always wondered why that isn't reflected as much in the "professional" writing world. I am constantly inspired by the young women creating around me, who all have such unique slants on wildly diverse topics.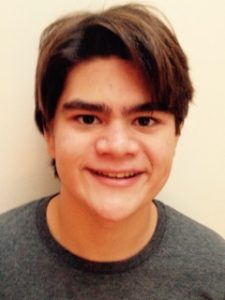 LA FPI: And now, Dylan! How did you react when you heard the numbers for this year — 11 of 12?
Dylan: I was certainly surprised to learn that I was the only male playwright, especially when the playwrights in last year's YPF were a mostly even split of guys and girls. However, I am also very excited to see their plays, perhaps more so than if they were half male half female. I believe I grow more as a writer when I view the perspectives of writers of a different gender, background, racial identity, etc. from my own.
LA FPI: What is your play about, in 11 words or less?
Dylan: Discovering true connection by conquering the demons of a prickly past.
LA FPI: You had a play in last year's festival?
Dylan: Yes! I was a finalist last year with The Exceptional Childhood Center. I'm so thrilled to be back in the YPF!
LA FPI: So how does it feel being this year's "odd man out?"
Dylan: It's incredibly humbling that the Blank Theater has chosen me. I feel honored and inspired to share my unique voice in the festival. I personally don't see myself as an "odd man out" – we are all playwrights, after all. We all observe and find meaning in life, and we all are passionate about conveying that meaning through the stage. It is this shared passion of ours that unites us together regardless of the differences we may possess.
Click Here for Tickets to The Blank's YPF Week 3:
LAZY BOY
Charlotte Leavengood (Age 16), St. Petersburg, FL
GWENDOLYN
Dylan Schifrin (Age 17), Sherman Oaks, CA
LOVELY MADNESS
by Ariella Carmell (Age 19), Chicago, IL
Week 2 (June 9-12) : Cassandra Hsiao (SUPERMARKET OF LOST), Alexa Derman (ABOUT ART) & Sarah Steuer (BITING ELEPHANTS)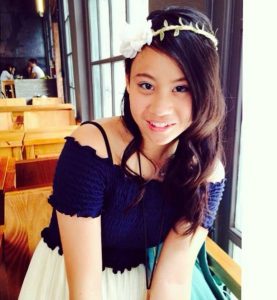 LA FPI: How did you find out about the Blank's YPF?
Cassandra: I was introduced to the Blank YPF by my playwriting teacher Tira Palmquist from the Orange County School of the Arts Creative Writing Conservatory. In 9th grade, I was a semi-finalist for my play "Second Star."
Alexa: How did you find out about the Blank YPF? It's a bit of a funny story. I was taking a class at Young Playwrights Inc., and their website is young-playwrights-dot-org. At the time, The Blank YPF was also young-playwrights – but dot com. I mistyped, and this is my third consecutive year as a winner! As I just turned 20 last week, it's also sadly my last year participating.
Sarah: I was taking an introductory playwriting course, where I wrote the first draft of this play. My friend, also in the class, submitted hers to a UCLA theater festival and got in, and I decided I wanted to do that, too! So, like the millennial I am, I just Googled something about how to submit a play for production, and, lo and behold, there was YPF!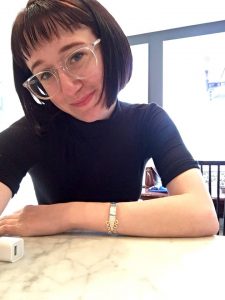 LA FPI: What is your play about, in 11 words or less?
Cassandra: Three souls face the consequences of losing – and finding – something precious.
Alexa: Aaron tries to make art. Art gets in the way.
Sarah: One family's emotional journey toward coping with a tragic loss.
LA FPI: Do you think being a female playwright affects the kind of plays you write?
Cassandra: Subconsciously I am sure that my identity as a female playwright seeps into my work and changes the lens; however, my goal as an artist remains the same – that the audience leaves changed. I do take into consideration the opportunity for women characters and other underrepresented groups to be heard through theater – I want to be intentional with whose stories I am telling.
Alexa: Absolutely. All of my favorite plays are by women, too, so I've come of age surrounded by plays about female adolescence. Almost every play I write is about young women in some way – every play except this one, in which I challenged myself to write a play about two men. Ironically enough, here we are!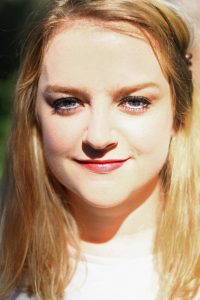 Sarah: In a way. I think that female characters are easier for me to write than male characters are, only because I can relate so much more deeply to them. The unique complexity of, in particular, an adolescent or young adult female character is something with which I am fascinated, and my personal experiences as a young adult woman definitely play a major role in my writing.
LA FPI: What has surprised you most about the YPF process, working with your mentor, director, and actors?
Cassandra: It's mind-blowing to think that the YPF cast and crew are living in a world I created for a couple of weeks. It is extremely gratifying and humbling to work with professionals who will bring your work to life. I'm so grateful to be part of the experience.
Alexa: I'm consistently surprised how much I learn from the process year after year, and that going through the same tradition still continues to help me grow and develop as an artist, each year in new ways.
Sarah: I've actually been really surprised by how emotionally rewarding and profound rehearsals have been. I also love how seriously everyone takes every rehearsal; oftentimes, my mentor, director, and actors realize things about my script and my characters that I've never even considered myself. It's a truly incredible process to be a part of.
LA FPI: 11 of 12. How does it feel being part of "The Young Girl's Club?"
Cassandra: I couldn't be happier. I'm thrilled that female playwrights are stepping forward to share their work, and being honored for that leap of faith. Hopefully this will inspire a new generation to share their voices.
Alexa: It feels amazing. In my two previous years as a participant, I was the only girl my week. In response to my plays, audience members have point-blank asked me if my plays – which dealt with abortion and assault, respectively – were autobiographical, as though a young woman's art can only be a diary entry. I have carried the weight of being a female playwright on my back from California festivals to Nebraska conferences to New York City premieres. This year, it's nice to be able to share that weight.
Sarah: The fact that YPF is a forum of inspiration for new writers and that so many winners this year were young women makes me so eager to see what is to come in the future of such a historically male-dominated field.
Click Here for Tickets to The Blank's YPF Week 2:
SUPERMARKET OF LOST
by Cassandra Hsiao (Age 16), Walnut, CA
ABOUT ART
by Alexa Derman (Age 19), Westfield, NJ
BITING ELEPHANTS
by Sarah Steer (Age 19), Memphis, TN
Week 1 (June 2-5) : Rachel Linton (VICTIMOLOGY) & Sarah Holland (MIND GAMES)
LA FPI: How did you find out about the Blank's YPF?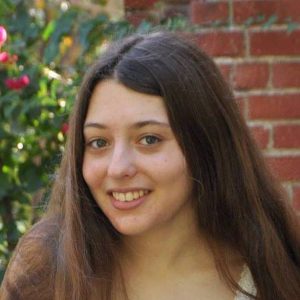 Rachel: My sister Sarah's friend Alexa had won the YPF before, and Sarah had gone to see her plays. This year around the time I was editing Victimology, Sarah mentioned that the YPF deadline was coming up, so I decided to enter. (Alexa, for the record, won for a third time this year with her play "About Art".)
Sarah: My theatre teacher mentioned it to me during my senior year of high school. It was also one of the first links to show up when I searched for playwriting contests online.
LA FPI: What is your play about, in 11 words or less?
Rachel: Two siblings confront their conflicting viewpoints at their father's parole hearing.
Sarah: Human connection. What it means to truly see someone.
LA FPI: Do you think being a female playwright affects the kind of plays you write?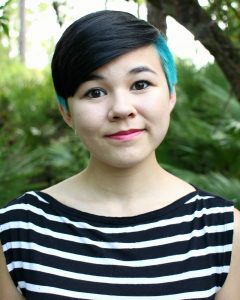 Rachel: I don't think it affects the kind of plays I write; I'm not really drawn towards subjects that relate to the female-specific experience. I do feel like parts of my identity shape the subjects I write about: I have a close relationship with my sister, and so I tend to write and think about sibling relationships. On the other hand, I'm sure that being female has influenced my experience and perspective in some ways that come through in my writing.
Sarah: Definitely. As an actor as well as a playwright, I understand the need for meaty, multi-faceted female roles. For example, Olive in Mind Games is enchanting, manipulative, and toxic. I'm sure many young female actors would love to explore the depths of her character.
LA FPI: What has surprised you most about the YPF process, working with your mentor, director, and actors?
Rachel: I think, more than anything else, I get the sense that my writing and ideas are being taken seriously. Really, it's the sense that everyone is as invested in the play's success as I am–I never expected that, and it's honestly the best feeling.

Sarah: I knew that everything was going to be professional, but I didn't quite grasp what that meant until I began the YPF process. I'm truly amazed at everyone's creativity, talent, and dedication to the project. It's a pleasure to attend rehearsals, and I've learned so much from all of the cast and crew!
LA FPI: 11 of 12. How does it feel being part of "The Young Girl's Club?"
Rachel: I feel really positive about that. I've been involved in a lot of activities that are very male-dominated. So I know how isolating it can be when there are very few females in a field, and it's so great to see and be a part of that changing in the world of scriptwriting.

Sarah: It's an honor, and I'm so thankful to have been given this opportunity. I hope that the number of female playwrights in this year's festival is indicative of a more diverse future in theatre. After all, there are so many young voices that have yet to be heard.
Click Here for Tickets to The Blank's YPF Week 1:
VICTIMOLOGY
By Rachel Linton (Age 18), Washington, DC
AGE-SEX-LOCATION
By Honor Levy (Age 18), Los Angeles, CA
MIND GAMES
By Sarah Holland (Age 18), Austin, TX
For more info & a 2016 YPF Schedule, visit ypf.theblank.com.
Changing the Course of Climate Change with Song
by Diane Lefer
When Sharon Abreu performs excerpts from The Climate Monologues on March 27th, the closing day of the LA Women's Theatre Festival, her solo show with song will harmonize art and activism. Abreu channels the voices of a former coal miner from West Virginia, a teacher from Colorado, and a college sophomore in Montana, who've all taken up the challenge of educating their communities and demanding action on climate change.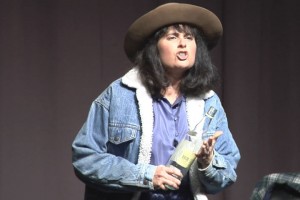 Abreu now lives on Orcas Island off the coast of Washington State, but the idea of turning her talents to advocate for the environment started back in 1992 with a pumpkin festival in New York's Greenwich Village. That's where she signed up for a half-price membership to an organization she'd never heard of before. Next thing she knew, Abreu had joined Pete Seeger on the Hudson River Sloop Clearwater, doing hard, hot work on the boat and teaching people who came on board about the fish and plankton, the chemistry of the water, and the history of the Hudson River. As she marveled at how the Hudson was brought back to life by people in communities all along its banks, Abreu began to write songs about a range of environmental issues and was invited to join Seeger in concert.
She later began to attend meetings of the UN Commission on Sustainable Development where she met people from all over the world who would later be featured in The Climate Monologues, including Robert Athickal, a Jesuit who runs the Tarumitra ecology center in Patna, India; and Maria Gunnoe who showed up from the coal fields of Central Appalachia, trying (unsuccessfully) to get help from the US government delegation because their so-called representatives in West Virginia were not helping them stop the devastating effects of mountaintop removal coal mining.
Abreu went on to interview a dozen community activists – often using phone and Skype for most because, much as she would have loved to travel to meet in person, she wanted to minimize her carbon footprint–and expenses, as she had no outside funding.
After producing two climate change shows with student performers, she decided it was time to perform one herself. She remembered Pete Seeger. "He had a way of connecting with people," she says. "He could talk with 1,000 people in an auditorium as if there were just 2 or 3 people sitting in his living room. And he could get them all spontaneously singing like a glorious choir." How would she connect?
It came to her when she appeared in a production of The Vagina Monologues: she could boil her interviews down to 5-7 minutes each, put them together, add some original songs, and so The Climate Monologues was born. In her full 70-minute show she portrays, among others, a former rodeo cowgirl, an anti-nuclear activist and radio talk show host, and a woman from the Yupik tribe on St. Lawrence Island in Alaska who tells how traditional life there is threatened by melting ice and permafrost and coastal erosion from storm surges.
In choosing which monologues to include here in LA, she was relieved that the decision was taken out of her hands. "The Festival people chose which portions of the show they would most like to have me do in my 20-minute slot."
Among the Festival selections is one with topical resonance, given the recent action of the Supreme Court–"politicians in robes," says Abreu. "Blocking implementation of the Clean Power Plan is, in a word, tragic. West Virginia's political leaders, who are in the pocket of the coal industry, have kept working people in an economic stranglehold for decades." And so she will share the story of Ed Wiley, a grandfather and former coal miner who explains that tech-savvy people are there in West Virginia, but technology jobs aren't. Abreu says his story illustrates how the coal industry works to keep other kinds of jobs out in order to keep people virtually enslaved. "Then the people can't do anything about their mountains being blown up and their water being poisoned." (Maria Gunnoe's coal country story won't be performed but here's a taste of it: https://www.youtube.com/watch?v=ZZGE43lQccc&feature=youtu.be)
Abreu is still adding new monologues and would love to connect with someone from one of the Small Island Developing States, like Tuvalu, Vanuatu or the Marshall Islands, already suffering from sea-level rise. At the same time, she wants to keep the runtime to about 70 minutes "because the show can be done without an intermission, and it leaves time after the performance for dialogue."
She stresses that though there's sadness in the stories she performs, there's also heart and spirit and hope. "We need to celebrate our achievements every step of the way and also to grieve what has been lost in all the precious, squandered time that we could have been addressing the problem of climate change."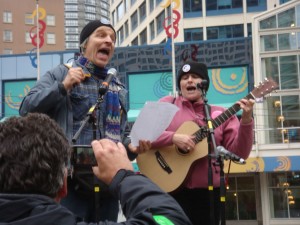 At home on Orcas Island, Abreu and her life-and-creative partner Mike Hurwicz are active in the fight against the use of pesticides and other chemicals, protecting drinking water and marine life. A current campaign is the drive "to push back against numerous proposals by the fossil fuel industries to export millions of tons of coal and oil to Asia through our already heavily trafficked and narrow waterways."
Through their nonprofit organization, Irthlingz, Abreu and Hurwicz blend entertainment with environmental education. As she explains, "good information about climate change bounced off of people's psyches. We had to connect with people on a deeper level, on a heart level and a spiritual level. The music and the stories help us to do that."
* * * *
The LA Women's Theatre Festival kicks off with a gala on March 24th at the Electric Lodge, 1416 Electric Avenue, Venice 90291, followed by solo performances March 25-27th.
On the bill with Abreu on March 27th at 3:00 PM:
Debra De Liso in Beautiful, Terrifying Love. A personal, poetic, dangerously true–at times funny–story of a nightmarish childhood, Hollywood horror film career, and traumatic motherhood with her beautiful, talented and bi-polar daughter.
Rhonda Khan in Food. A rhythmic tale from New York of one woman's addiction to food amidst societal pressures to be thin. Family, therapists, healers and gurus weigh in and diagnose her as she spits her truth about weight loss, gain, and healing.
For the complete schedule: http://www.lawtf.org
To hear excerpts from The Climate Monologues that won't make it onto the Festival stage, and more songs (including sing-alongs), catch Abreu and Hurwicz with singer-songwriter James Lee Stanley in concert on March 23. Northridge Mobile Home Park Community Room, 19120 Nordhoff Street, Northridge. 5:00 PM for refreshments and mingling. Concert at 5:45. Admission by donation.
This article originally appreared in LA Progressive.
How To Save a Rhino in 10 Minutes!
by Nikki Harmon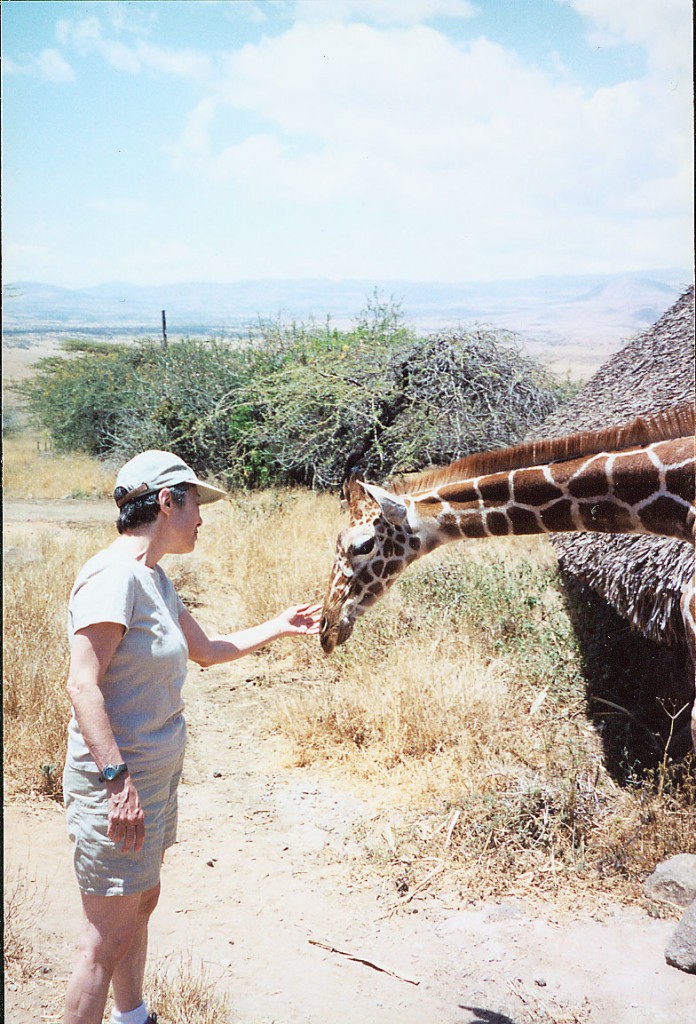 Want to save an Elephant and a Rhino from extinction like the Passenger Pigeon? Or stop an Alligator and a Coral Reef from going the way of the Dodo Bird? And you're not able to get to Uganda to save the Mountain gorillas, or ship out with Greenpeace to stop illegal whaling? There's another way to help. Write a 10 minute play about an endangered species.
What?! You don't know what species are endangered or even what the word Endangered means? Well, you're not alone. You'd be surprised how many people get it mixed up with In Danger. "In danger" means a dog or cat in a kill-shelter. "Endangered" means threatened to extinction. Gone forever, kaput, fini, only to be found stiff and stuffed in a museum somewhere for kids to see on a field trip.
And what about the word Species? Lots of people think that an elephant is an elephant and a rhino is a rhino. But did you know there're 2 species of elephants (both are endangered), 5 species of rhinos (3 are critically endangered), 9 species of giraffes (2 are endangered) and 3 species of zebras (1 is endangered). Endangered species are everywhere. Mammals, Birds, Reptiles, Amphibians, Fish, Flora & Fauna, and Invertebrates. Orchids in South Africa, crocodiles in Cuba, cactus in Arizona, and here in Los Angeles, the El Segundo Blue Butterfly.
So now you're inspired. Now what? The Saving Endangered Species Int'l Playwriting Prize.
I started SES Prize after working with two wildlife conservancies, one in Kenya, with the Grevy's zebra (that's the one that's endangered) relocating them back to Meru National Park where poachers had killed every single animal! There are only 2,000 Grevy's left in the wild today! And at a conservancy in Namibia, with the cheetah, where poachers and farmers are to blame for bringing the cat's numbers down to fewer than 7,500.
Impassioned and determined I looked for a way to get people to do something about saving our endangered species. What I discovered was that half the people I talked to didn't know what endangered species meant, and the other half didn't care. I turned to CITES (Convention On The Trade of Endangered Species) in Switzerland, trying to figure out a way to educate people. Juliane Barras, at CITES, recommended that instead of "endangered species" I try saying "threatened to extinction." And, at the suggestion of David Faux, at the Dramatists Guild, I added . . . "like the dodo." And a light bulb seemed to go off in people. But it was still a distant concept for them. "After all," as one woman told me, "there aren't any here in America. They're all in Africa." This was obviously a bigger problem that I had first thought. Education. Education. Education. A word that Juliane said to me over and over again. So, how was I going to educate people? Theatre! What better way to get people to learn about and talk about something than theatre? I'd been in it over 50 years – stage managing, writing, casting, designing and even a little marketing. I knew this business.
So I gathered a bunch of friends, with different backgrounds from around the world, and formed SES Prize. The concept being that this is an international problem that needs an international solution. And we made it an international competition for that reason.
The next hurdle has been getting writers to do research. Too many playwrights fall back on Boy meets Girl Boy loses Girl (or variations thereof). Daddy died let's read the will. My family's crazy, let's talk about it. Some writers send us ten pages and on page four one character says "Hey, how about what's happening to the tigers?" And the other guy says, "Yeah, it's really terrible." And that's it. Others have characters spouting research they got off Wikipedia instead of real dialogue. But some have written plays with passion, with humor, with an understanding of the species. And those plays jump off the page and come alive!
Now find a species you're passionate about, check out our guidelines and enter the competition, for a staged reading for a benefit for The Jane Goodall Institute. It's a great cause. It's a way to put more knowledge in your writing quiver. It might even save a species. And if you've never written a ten minute play before, there's a section on our website that'll walk you through it. Give it try!
Visit www.sesprize.com – November 30, 2015 Deadline. NO FEE – $100 Award. Questions? Contact sesquestions@yahoo.com.
Connect with SES Prize on Facebook.com/SESPrize & Twitter @SESPrize.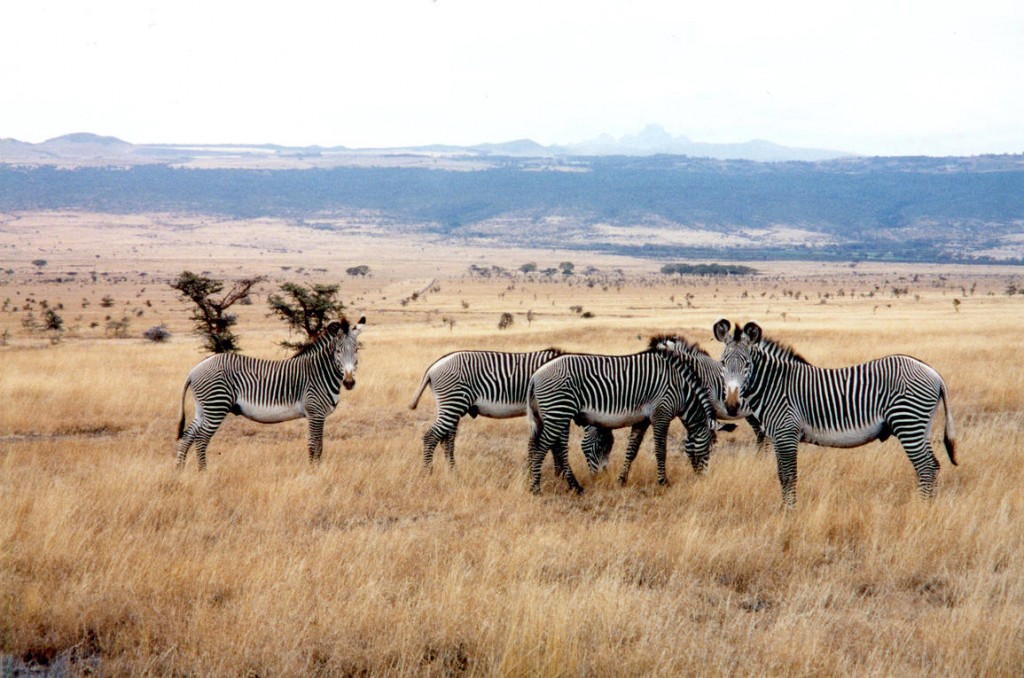 TRADE A PLAY TUESDAY
An ongoing feedback resource for playwrights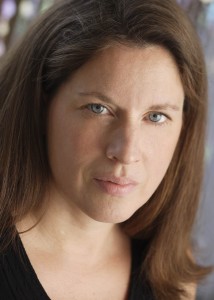 By Donna Hoke July 2, 2014
It has been six months since I launched TRADE A PLAY TUESDAY (TAPT); I almost can't believe it's been that long, but sure enough, the date on the original guidelines post is January 14. For those who don't know, TAPT is a one-to-one, give-and-take feedback system for short plays and scenes; in short, you send me your plays and scenes, and I swap them out as they come in—easy! Since its inception, with few exceptions, TAPT has run every Tuesday and, to date, more than 250 plays have been traded. That's pretty amazing. (If you want know more about TAPT or would like complete guidelines for participating, click here.)
Some weeks have been heavier than others—I probably trade an average of ten plays/scenes a week—but never has there been a week where nobody sent things to trade. And nearly every week, a new playwright pops in and is delighted by the process. That this is still going strong after six months and still attracting new participants means, I hope, that it's in the ether. It's a resource that people use when they need it, whether that's every week or once every two months. And as long as there even one play coming in each Tuesday, TAPT will continue.
What's even more amazing is the notes I get from playwrights who have participated, notes that say they've made reading relationships for full-length plays and ongoing friendships that started with a simple Tuesday trade. I had really hoped this would be a byproduct of the process, as we playwrights work in such isolation and sometimes knowing that you can get instant feedback or run a question by someone one-on-one can really help. I often join in myself and I feel as though I've built a go-to cadre of playwrights at all levels of experience and specialty.
I would like to share one note (and I have permission from the playwright to do so) that sums it up:
I've gotten cursory responses, not especially helpful or thoughtful. I've also gotten fairly helpful critiques which give me the nerve and impetus to go back to moribund plays, as well as ringing endorsements suggesting I should start submitting the scripts. It's similar to the range of responses you might get in a writers' workshop, but one match at a time. And it's nice to connect with other playwrights you haven't met.
To the first sentence, I say, of course, the process hasn't been perfect as it's developed. I have had to do a little bit of policing in asking a couple of regular participants to reevaluate their contributions and why they were coming back week after week, but I was heartened that both playwrights graciously said they completely understood and would bow out until they felt they were ready to commit to the process. There was no anger or kickback, because playwrights are a classy bunch. I have also begun to ask new participants to CC me on feedback the first time or two so that I can at least eyeball it for fairness, so if you've tried TAPT and were disappointed, maybe give it another try.
This playwright quoted above has come back more than once and, in doing so, reaped TAPT's intended benefits. There is a risk in any new venture, and I realize that many people have reading groups already, or feel uneasy about sending a play to a stranger. But given the connections that are being made, and the low risk—just ten pages—I'd still say it's worth a shot. Whether you agree or disagree, I only ask that if the occasion arises, please help spread the word. There are thousands of playwrights out there, and not everybody knows about TAPT yet. I would love it if they did.
I post every Tuesday (and sometimes on Monday nights) on the Official Playwrights of Facebook and I also Tweet several times on Tuesday (follow me @donnahoke) to remind everybody. If you see the Tweet, give it a retweet if you're inclined as Twitter is so fleeting. And if you have a ten-minute play or a ten-minute scene and it's Tuesday, send it to donna@donnahoke.com. You'll always be welcome.
The Sacred Synergy of Pieces of Carra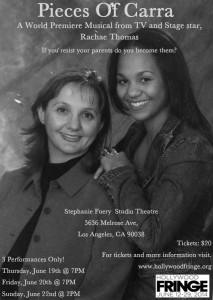 By Carly Pandza
When Rachae Thomas approached me about the concept for her one woman show, I knew I wanted in. The theme of "what you resist, persists" is something that I instantly related to and knew audiences would, as well. She told me she had no script and had never written anything before. I had devised theatre in the past as part of an ensemble but never in the role of director with only one actor. This was an exciting risk that intrigued me; I was ready to leap and pray that the net would, indeed, appear.
By the time Rachae came to me she had already registered for the Hollywood Fringe Festival and put down a payment to reserve a performance space. The clock had already begun ticking and would continue to do so until we were to open in mid-June. We started at the beginning of May and went from a concept to creating the script to incorporating blocking and musical elements simultaneously as we developed the play. It was a nonconventional progression but nonetheless a fun one.
Harmonious collaboration for this show was essential and it blurred the lines of any process that I have ever experienced as an actor, writer or director. Rotating between all of these hats, I had to pop them on and off quite quickly. Whether it was observing the overall vision from a director's birds-eye view, playing in the space with Rachae as a fellow actor or writing and revising in order to shape Rachae's work as we created the story arc, it was always a creative whirlwind.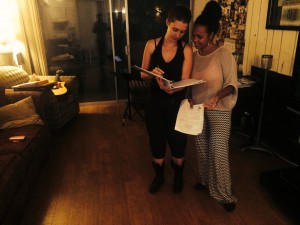 Devised theatre can also be referred to as a collaborative creation and Pieces Of Carra definitely embodied this. I realized at the beginning that I had to relinquish control. This might seem like a counterintuitive thing for a director to do. I learned that I could extensively prepare what we were going to work on in each session and immediately in turn throw it out once we got into the space and started to dive in. Rehearsal activities ranged from me interviewing Rachae, to character discovery and exploratory exercises for movement and gestures, to listening to the songs from the show to singing them and then talking about the memories that came up during the act. There was a lot of patience that needed to be practiced by both of us as we discovered the way the other worked. We also discovered our own techniques, as neither of us had ever done anything quite like this before. Once we understood our unique artistic styles, we learned how to cater to our collective needs in order to elevate the work and move forward.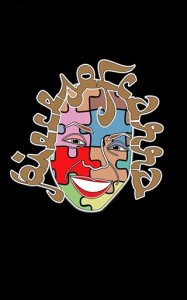 The journey of this production has been magical. It has characterized the essence of what I think it truly means to be an artist: splashing around and swimming in uncharted waters rather than being focused only on the result of what it will look like once you get to shore. While the end destination has always been kept in mind, exploration is where this piece was born. The process of this play has been pure play and has reminded me what it means to play while creating art and why plays are in fact called plays.
It has been a joyful game of trial and error, of sharing and peeling back the layers of Rachae's life until we unearthed the gems. It has been an honor. Most directors only dream of being granted this type of opportunity. The shared space to create freely has been a continuous rejuvenation and contribution to the evolution of my creative spirit.
PIECES OF CARRA, created by Rachae Thomas and Carly Pandza plays June 19 – 22 at the Stephanie Fury Studio Theatre as part of the Hollywood Fringe Festival.
Visit http://hff14.org/1685 for tickets and info. (PWYC Previews June 17 & 18 at 7pm at EST/LA's Atwater Village Theatre.)
Working With Women: SWAN Day Into Rituals
I am a director.  I am female.
I work with playwrights.  Some are female.
I also work with actors.  Some of whom are female.
And I'm hoping to live long enough to see a time when that is no longer something to talk about.
I recently had the pleasure of working with the very talented Kathy Graf on her short play The Stiff, at a recent SWAN Day (Support Women Artist Now Day) event held at Samuel French Bookstore in Hollywood. Graf's play is a juicy little piece centered on Sam, a woman dying of Parkinson's and reflecting on her life and the people around her.  Although the premise could make for a maudlin, syrupy slide in to stereotypes, Graf gives us a fierce, unapologetically flawed woman who, up till the very end, does things her way.  The Quintessential Antihero ~ and a woman.  Two things not often seen together on stage or screen.  I loved assisting in bringing this very real story to life and look forward to collaborating with more women writers to produce effecting, exciting, challenging art.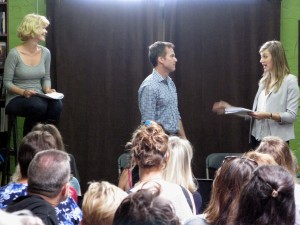 That's one of the reasons SWAN Day was so exciting. Writing is very much a solitary practice, and directing can be just as isolating for different reasons, so having a day dedicated to female artists and their work let you remember that you were not alone.
The energy was electric. There was a full house of women AND men gathered together to support the women writers and directors. The scripts were witty, insightful, poignant and innovative.   The actors, mainly drawn from The Vagrancy, were committed and talented.  Overall, it was a great success.
However, as I was leaving the event, surrounded by all these powerful, dedicated women working the entry table, concessions, the script dissemination table, my heart sank a little as I noticed an older woman walk right past all of them, to get to the male friend I was standing with – she made sure to ask him where check-in was.  Since he didn't know, I pointed her in the right direction and my friend and I both chuckled sadly as we walked out to the street.
As I said, I hope for the day when being a female writer/director/artist is no longer something to talk about.  For now, I just keep on working.
To see more of what I and the talented people of The Vagrancy are up to, come out to see their 24 hour play festival Rituals: A Bacchanalia this Saturday, April 12th.   It's writing, directing and acting on the fly in a 24hour wiz-bang of a show and celebration.  You don't want to miss this one! Just make sure you ask a woman for directions.
***
 WHERE: Lounge Theatre, 6201 Santa Monica Blvd
This year's (female!) playwrights will include Nahal Navidar, Amy Tofte, Annette Lee & Megan Breen (nods also to Boni B. Alvarez, Jesse Shao & Tim Cummings).
 The women directors staging the new works will be Sabina Ptasznik, Caitlin Hart, Kitty Lindsay, Laura Steinroeder, McKerrin Kelly & Randee Trabitz. (Plus, big-time supporter of all things LA FPI, the wonderful Doug Oliphant!)
Women on the Edge
by Dee Jae Cox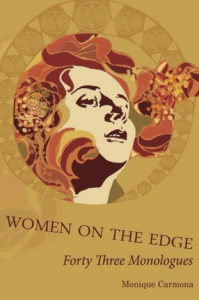 Women on the edge…. Of change…. Of growth…. Of insanity…. Of a breakthrough. I visualize women constantly on the precipice of change, just ready to make their mark and overcome the obstacles that prevent them from moving forward. I've read that women are much less likely to take risks than men are. We play it safe and take the long road towards success rather than just taking that leap of faith and free falling towards the bottom of the canyon with the hope that at some point before we hit bottom… we'll sprout wings.
But when we do venture out and shake off the dust of our cubbyholes, we find that the light and the success of our work is so much more than we ever knew it could be. On November 15th Monique Carmona will offer a book signing of her incredible book of monologues, Women on the Edge, at Samuel French, in Hollywood. I met Monique at Samuel French at an LA FPI gathering. She read from Women on the Edge and I was mesmerized by her presentation and her creation of brilliant and unique characters. She reminded me of why I love theatre and why I so strongly believe that women have to support each other in getting our work on to the stage.
I founded The Los Angeles Women's Theatre Project in order to provide sorely needed opportunities for women's voices in Los Angeles theatre. While I listened to Monique read from her book of monologues, I remember thinking…. This is exactly why women need stages and audiences and most of all opportunities to take risks with their work and their voices. We need to shed the fear that keeps us in our safe little places, but allows no room for passion or growth. Monique Carmona, is an artist who takes that leap of faith, plummets from the edge towards the rock hard bottom of the creative canyon and finds her wings before hitting bottom. She dares to defy odds and pursue her passion. And that is exactly what we, as women, must put solid effort into doing. It's not enough to allow the words to flow from our imagination onto the page. We have to then set the page on fire by ensuring that our stories are then produced and performed before audiences, as is the intent of theatre. We must firmly commit to the notion that the stage must burn with equity we seldom find and a feminine voice that is seldom heard.
Award-winning actress and writer Monique Carmona's work grew from a desire to create more material for her to work on and grow with. Material that busted through worn out archetypes to ones that were flawed, alive and compelling.
On November 15th, 3:30 pm at the Samuel French Bookstore Monique will offer a book signing of her incredible book of monologues, Women on the Edge. She is in the process of getting her work from the page to the stage and providing another much needed venue for women's stories to be told. Every time I see a woman like Monique, step out on that ledge and take that leap of faith with her work, my heart takes flight and I am inspired to take that free fall from the edge, secure in the knowledge that before I hit bottom, I'll find my wings.
Dee Jae Cox is a Playwright, Director and Producer. She is the Co-Founder of The Los Angeles Women's Theatre Project, a 501c3 nonprofit dedicated to creating opportunities for women in the Performing Arts. And she is the host of 'California Woman 411', (californiawoman411.com) a weekly radio show that showcases women who lead and inspire in the Arts, Business, Politics and discusses topics that are of interest and benefit to women. You can tune in every Saturday morning at 10 am on KPTR 1450 AM, Palm Springs. Or live stream it on your computer at www.kptr1450.com and listen in from anywhere.
Expect the Unexpected at LA FPI
by Lynne Moses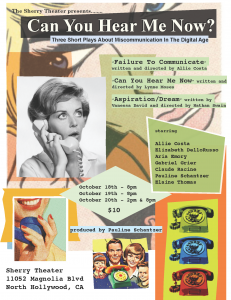 Who knew attending an LA FPI Gathering at Samuel French would lead directly to a production of one of my plays! But that's exactly what happened.
I've been attending these gatherings because I meet great people and the readings of people's one-page offerings are so damn entertaining. At one such gathering, a beautiful and delightful young woman showed up holding an attention grabbing little dog. Her name is Pauline Schantzer, and she read a page from her work-in-progress, a historical piece about a young woman determined to teach African-American girls, even at the cost of losing her white students.
Turned out Pauline enjoyed the one-page reading from my short play, "Can You Hear Me Now?" and thought it might make a good piece for her and some of her fellow actors at Playhouse West Repertory to play with. That idea soon mushroomed into a brainstorm to stage the show, and she set to work finding some other short plays to add to the program and make a production of it. Being a great Instigator, she posted a request for plays on the theme of "cell phones and miscommunication in the digital age" in the LA FPI EBlast, and before long she had additional plays to round out the program.
Using her Pauline voodoo magic, she soon had the Sherry Theatre arranged for a week-end run, directors for the plays and actors from Playhouse West cast. So now it's in rehearsals!
Come see the short play program "Can You Hear Me Now?," produced by Pauline Schantzer and featuring "Failure to Communicate," written & directed by Instigator Allie Costa, "Can You Hear Me Now?," written and directed by yours truly and "Aspiration/Dream," written by Instigator Vanessa David and directed by Nathan Swain.
And come to the LA FPI Gatherings at Samuel French. You never know what will come of it. Next one is on November 9th from 1-4 pm.
"Can You Hear Me Now?": plays about miscommunication in the digital age

October 18, 19 & 20 at 8 pm; October 20 at 2 pm

The Sherry Theater
11052 Magnolia Blvd (between Lankershim & Vineland) in North Hollywood
"Loudest, Clearest, Sassiest and Smartest":
Empowering Female Voices in WaveFest
by Chloe Huang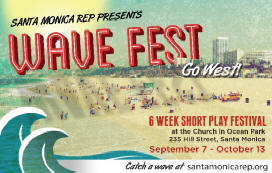 WaveFest, a six-week short play festival created by Santa Monica Rep, will surely keep the heat on stage as the summer ends. From September 7 to October 13 in Santa Monica at the Church in Ocean Park, eighteen productions will greet the world in three "waves" over six weekends with the theme "Go West."
Jen Bloom, originally from the East Coast, is lead producer of WaveFest and co-founder of Santa Monica Rep. She talks about the establishment of the theme:
"I remember when I moved out here, people said to me, 'You really have to fight to figure yourself out in California'… As a company, we were ready to do new work. So we all brainstormed as a hive, and came up with the idea of doing a short play festival about the West. The theme 'Go West' came to us, because we wanted to know more about where we lived and worked. What does 'Southern California' really mean?"
The plays in WaveFest will explore stories of the Westside and Southern California "through the lens of history, neighborhood, cultural group, class status, age, myths, and the entertainment industry." The stories are full of life and surprises. Ann Marie Tullo, one of the producer/directors of the event, told us that she learned much about the place she lives.
"The stories that have come out of it are fantastic. I'm learning things about Santa Monica that I certainly never knew," Tullo says. "We have two plays with conquistadors!"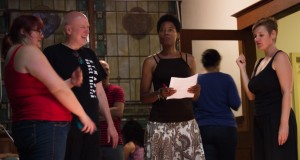 What makes WaveFest different from other similar events is that amongst the eighteen pieces presented in this year's WaveFest, more than 2/3 are works by female writers (including five LA FPI members).
"We were never actively trying to make that happen. It just did," Bloom clarifies when asked to comment on the significant presence of female writers in this year's WaveFest. Bloom asserts that she only focused on picking the "loudest, clearest, sassiest and smartest" plays for the festival, and the result happens to favor female voices.
"I only realized this as was I began to talk to Isabel Storey, who's handling our publicity. She said 'Oh, that's a lot of women!' and I said, 'Oh, how funny!'" Bloom says and laughs.
When asked what drew her to women's stories, Bloom says:
"I respond to complicated relationships. The plays we selected were the most interesting, fully layered pieces. Most of them just happen to be by women. And even a few that were written by men are centered around women characters."
Moreover, Bloom explains that the suggestion of specific social/historical themes might also contribute to the fact that most plays selected are works from female writers.
"Women rose to the challenge of the theme in different ways; they took it and exploded into it," Bloom says. "Many of the plays we turned down were too formulaic, the writers didn't get inspired by the challenge or push against it. Of course this is a huge generalization, but too many male playwrights just 'completed the form'."
Women are making themselves heard not only as WaveFest writers, but also in other aspects of the event: more than half of the performers and staff are women. Directors are 50/50 female/male. Since male directors are more common in the theater, this is truly unusual.
As publicist of the event, Isabel Storey says:
"Men are definitely included and represented in the festival, but there is a strong female presence. The predominance of women writers leads to inclusion of a number of interesting women's stories and characters – with stories about women young and old, rich and poor, Caucasian, Hispanic and Black – and issues of interest to women."
The unintentional strong presence of female voices in the new short play festival makes a significant statement, suggesting the increasingly important part female voices play in the contemporary American theater.
Look out! The women are coming.
Chloe Huang is a writer for plays, screenplays and short stories. She graduated from Bowdoin College and is currently studying MFA Dramatic Writing in USC.
For more information on WaveFest, performed Saturday Sept. 7 – Sunday October 13, visit http://www.SantaMonicaRep.org.

WaveFest features plays by Tanya White, Ann-Giselle Spiegler, Isabella Russell-Ides, Lisa Kenner, Raegan Payne, Vasanti Saxena, Rachel Kann, Andrea Schell, Susan Bullington Katz, Lindsey Haley, Mary Steelsmith & Jennie Webb, and the work of directors Jen Bloom, Michelle Joyner, Joanna Syiek, Sara Israel & Ann Marie Tullo.
Marguerite Fair: Mother of Re-Invention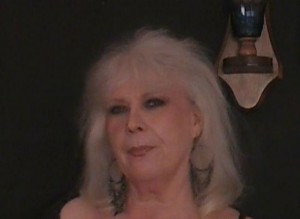 By Mary Steelsmith
One of the many things that delight me about our LA FPI meetings is, well, MEETING people at the meetings. Back in April, I found myself sitting next to Marguerite Fair. As we chatted, it occurred to me I was possibly in the presence of a true Renaissance Woman–novelist, screenwriter, filmmaker, director and playwright. And being a woman of age, she draws from vast life experiences to share her unique point of view with the world.
Since moving to Los Angeles from the East coast, Marguerite has embarked on a journey, which she says has resulted in thirteen screenplays (www.screenplaystosell.com) and five nonfiction books. Marguerite's books may be purchased directly from her publication website: www.Fairebooks.com.
So far, she has written three plays: "Your Late Mother," "Emotional Bondage" and "Goddess Intervention." GI is a fable of four obsessive Goddesses who embark on a comical path to self-realization, via the Wayne Dyer code of being better than they used to be.
"Goddess Intervention," which is also being directed and produced by Ms. Fair, stars Cal Bartlett, Jody Berger, Katsy Chappell, Audrey Mitchell, Cynthia Russell and Toni Tinkelman. It will have a special one-time performance Sunday, June 23, 2013 at 2:00 P.M. at SpiritWorks Center, 260 North Pass Avenue, in Burbank. Tickets can be purchased in advance on the website: www.goddessintervention.com, directly from Marguerite Fair or at the door.
This one-time performance of "Goddess Intervention" is a fundraiser for Marguerite's next project, a full production of "Your Late Mother," a drama about a mother's last day of life in which she gets her wish granted from God to reunite her fractured family before passing into the Afterlife. The message it delivers is that we should aspire to heal our lives while there is still time."
Marguerite's early passion for writing was inspired by novelist Margaret Mitchell. At age ten, "GONE WITH THE WIND was the first grown-up book I ever read. I loved it from cover to cover." From that point on, she simply knew she would be a writer. "I loved writing little stories and letters. When my mom was sick and in the hospital, I used to write her letters that would make all the nurses cry. When my mother told me that, I knew that my writing could emotionally touch people, and that was it."
A couple of years ago, Marguerite attended her first meeting of the LA FPI, and was greatly impressed by the supportive and creative environment. "It is comforting to be with other female playwrights to share information about upcoming shows and just enjoy the energy of talented and empowered women." She advises younger women starting out to accept and own what they do as writers and understand that their voice is uniquely theirs and theirs alone. "Never compare your path or talent to other people; just move forward with your expressions and draw from personal experience for emotional tones in writing."
Looking beyond next year's production of "Your Late Mother," ever the re-inventor, Marguerite smiles, "I am on an ongoing internal journey of connecting to, and being aware of, my ability to be conscious and spiritual in my thoughts. Self-awareness is my lifelong quest." It will be fascinating to see what she comes up with next.
–Mary Steelsmith
About Mary Steelsmith, Playwright
By Marguerite Fair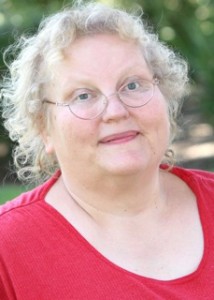 Attracting wonderful people is a special gift with which I am blessed. A couple of weeks ago, I attended a Female Playwrights Initiative meeting at the Samuel French Bookstore down on Sunset Blvd. in Hollywood, CA. That's where I had the delightful experience of meeting the lovely and talented Mary Steelsmith, an internationally, award-winning playwright. It was obvious that my first writing assignment for the Female Playwrights Initiative website would be about Mary, her unique story and amazing talent as a playwright.
In 2012, Mary was chosen to take her Helford prize-winning full length play, "Isaac, I am" to Stockholm, Sweden, where it was presented to an audience at the Women's Playwrights International Conference. Mary noted that it was a rare and wonderful experience to have the opportunity to make new friends from Australia to Palestine and Afghanistan to Kenya. It is easy to understand why people want to keep in touch with Mary. She is kind and warm person who emanates a joyful and positive energy.
Mary's talent for creating unique and spectacular ten minute plays is a true statement about the level of her talent. Mary's plays have been seen at many venues, some of which are The Secret Theatre in New York; "DC Swan Day" at the National Museum of Women in the Arts, in Washington DC; Goshen College Winter One Acts/Goshen College Theater; Western Michigan University Directors' Festival of New Works and many other impressive stages.
When the question was asked "Is there a writer or other person whose work you admired or has inspired you?" Mary's quick response was about her mother Cassie who was born in Watts, California in 1913. Five years later Cassie and her family took a horse-drawn wagon and homesteaded in Southern Idaho. During World War II, with her dad being an enlisted man, Mary's mom supported the family as a reporter for the local newspaper and was paid by the word. Her articles about the latest Campfire Girls Social function – including the names of each girl, mother, what each brought for the potluck and the recipes – made the articles popular and well-received. By the time Mary's dad returned from overseas, Cassie had paid for the house. Mary was born eleven years after the war ended and she naturally fell in love with writing and story-telling.
Mary became aware of her strong writing voice when she became angry about the ending of " The Diary of Anne Frank." As quoted by Mary regarding her reaction that kicked her into a creative writing mode: "We read the play in Junior High School English class and were supposed to write essays about it. Being 14, I found it unthinkable to find out that Anne didn't get away. So, instead of writing an essay, I wrote a new ending to the play, where just as the Nazis are marching up the stairs, Anne and Peter find a secret, secret room and get away. I was given a lower grade for not following the teacher's instructions." The moral to Mary's story is find your voice and write it your way.
I asked Mary how she became involved with the concept of writing ten minute plays. She stated that since her theatrical education consisted of watching the classics on TV, such as The Twilight Zone and the Loretta Young Show, she learned early-on that the economy of story and well-rounded characters were the two major ingredients to write complete and interesting short plays.
Mary admits to being painfully shy and that writing enables her to deal with it. When I asked what would she suggest to inspire younger women, she stated simply: "I would like to assure them that writing something – a story, poem, play, etc. – can save the writer as well as the reader. No matter how good or strange it is, keep writing. Writing saved me. It still does."
Presently, Mary has two full-length plays that she is in the process of drafting. In addition, she is excited about her play "Seldom is Heard" that will be part of the Kauai Shorts 2013 Festival in Hawaii this August (2013).
Also, look for Mary's new ten minute play: "Dancing With Sherpas" that will be part of the ALAP/Celebration Theatre reading festival on Saturday, June 15, 2013. Visit laplaywrights.org.
For more information on Mary's awards, projects and events, please go to www.MarySteelsmith.com.
I just love Mary's great sense of humor, so evident when asked her favorite quote: "All's well that isn't swollen."
Thank you Mary Steelsmith, I am delighted to have met you!
–Marguerite Fair
"Tactical Reads" Begin June 27 at Atwater Crossing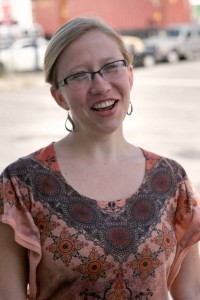 What's the point of another reading series?
No, really, I ask myself this question all the time, especially when I am listening to plays that are uninteresting, which will never be produced, under work lights, and there is no wine.
The idea for Tactical Reads came about because I was sitting around in apartment contemplating how I was going to get in touch with female playwrights who wrote plays that riveted me specifically. There are lots of wonderful plays out there by women, but how to find those that specifically spoke to who I am as a director versus the other brilliant female director sitting next to me? And so it dawned upon me that perhaps I could start a reading series not for the writer, but for the director, that would inadvertently benefit the writer as well.
This made me nervous because all of a sudden I felt self-serving, as if looking for material that interested me directorially was a sin that would be punished in some not-so-benign theater hell. But playwright Jennie Webb said this was "crack for writers," to have directors actively searching for their work, and so I knew that I didn't have to limit myself in starting a reading series that was more development and writer-based, but that I could really go for something a bit more product-oriented.
And so the child of Tactical Reads was birthed.
Why "tactical?" Because we are moving with purpose to find collaborations between female writers and directors that will actually go somewhere.
Tactical Reads will be held every other month, and it is my hope that by next summer we as an Artistic Committee can find one play that we are excited about working toward producing. The Artistic Committee, which is small now and growing, is composed of play readers who are also directors searching for the kind of material that interests them.
The Tactical Reads will be followed by a brief talkback moderated with specific questions as to the future of the play at hand, with emphasis on
a. whether the play is ready to be produced,
b. thoughts about the specific directorial interpretation and choices made in the reading,
c. what is the play's audience?
and
d. what steps can be taken toward producing ends in the future?
Tactical Reads is excited to get its start at Atwater Crossing, the perfect place to grab a bite and a drink, then share new work at one of their performance spaces. Future reads will be held jointly with our LA FPI Gatherings. This means we'll now will have a regular schedule and a live event to accompany all the networking, gossiping, and, well, wine.


The first Tactical Read will be Strawberry by Paula Cizmar on June 27th at 8 pm.
We'll gather at 7 pm to play catch up, scheme and welcome new LA FPI Instigators.
See you there.
–Sabina Patsznik
Click Here for more event details. (Visit atwatercrossingkitchen.com for directions, a menu and info on this wonderful venue run by great people!)
Click Here for more Tactical Reads information.
LA Theaters Come Together in a HeatWave
New Environmental Project Kicks Off Saturday, June 9th
Global warming?
There's plenty of dramatic conflict to be found in the earth's rising temperatures.
And there's plenty theater artists in LA can do about it, if we do it together.
At least that's the way artist and award-winning designer Stephanie Kerley Schwartz looks at it.
"Like a lot of my friends and colleagues, I'm personally very active in fighting for the environment," she says. "And over the last few years I've seen more and visual artists connecting to the green movement, creating art and participating in Earth Day events. But nothing was happening in the theater community."
Working with Rogue Machine Theatre, she reached out to LA theaters, theatermakers and playwrights, hoping they'd share her goals of
generating new works focused on the environment
promoting and facilitating green practices in theater operations and production
connecting theater artists to environmental activists
The Los Angeles Female Playwrights Initiative is proud to be one of the first to make the commitment!
HeatWave launches on Saturday, June 9th from 9:00am – 4:30pm with a participatory and community-building conference, hosted by Tree People. Open to the public, the day's events include speakers, entertainment and break-out sessions encouraged to match playwrights and producers with LA-area environmental groups.
Future happenings include opportunities for playwrights and directors to be involved in the HeatWave Inagural Readings Series in January, 2103, and the HeatWave Earth Day Festival, Friday, April 19 – Sunday, April 21, 2013.
Visit http://HeatWaveTheatre.org for more information about the project, to sign on as a participant, to volunteer, or to reserve for the HeatWave Conference.
"In LA, we have a strong sense of community among theaters and artists," Stephanie continues. "But with the pressing environmental issues facing us, I wanted to find a way to channel our energy and creativity in a way that makes us look outside of ourselves. By working together, we can have real impact within the community and beyond it."
The first HeatWave Conference will take place Saturday, June 9th, 9:00am – 4:30 pm at TreePeople, 12601 Mulholland Drive, Beverly Hills, CA 90210. Admission is $25, to cover the cost of refreshments and lunch. Reservations are required. Visit heatwavetheatre.org or call 323-405-7557 for more information.
A New Collaborative Start on March 25th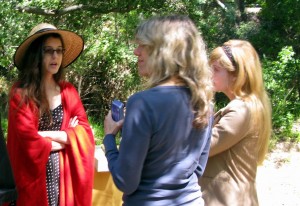 Where do the seeds of new projects come from?
"It's kind of funny: this one was born from deceit," says Ella Martin.
Ella's an active theater artist who was LA FPI Study Director for last year's examination of women playwrights on LA stages. She's also Artistic Director of Theatre Mab Town Hall, and it was while she was doing a quick change of actor/playwright/director/producer hats while dishing with a few close colleagues that she hit upon the idea of a Collaborations Conversation: a panel of extraordinary women theater professionals coming together to share their experiences as collaborators, which would then create a springboard for new collaborative projects.
So, what's deceitful about that?
The whole thing started as surprise party for a playwright pal; the ruse was that the birthday girl thought she was showing up for a panel focusing on collaborations.
"Well, she got very excited about this panel that wouldn't exist," Ella explains. "And as we kept taking about it at one point I said, 'Wait: That really is a good idea! Should we see if we can really do it?' So now we are!"
In making her plan a reality, Ella connected with WomenArts SWAN Dayand reached out to artists she's worked with in the past, including Theatricum Botanicum Artistic Director Ellen Geer; Dale Franzen, Founding Director of The Broad Stage; Cal Arts' Marissa Chibas; Santa Monica Rep Co-Founder Jen Bloom; actress/director Susan Angelo; and frequent collaborators Mary F. Casey and Ann-Giselle Spiegler.
"All of these women come at collaboration from different directions," Ella says. "But many of them have or have had a professional relationship. I wanted to emphasize the overlap; the fact that we are all connected. We sometimes work with people once or twice, or repeatedly over many years, but – especially as women – it's often relationships that can carry you through in a very concrete way."
Ella stresses that the Collaborations Conversation itself won't be a dry panel discussion; there will be no complaining, whining, dumping or needlepoint.
"This is not stitch n' bitch," says Ella, smiling, but in a way that you know she's serious. "I hope everyone enjoys sharing laughs and experiences; it's important to me that everyone who comes takes an active part in the conversation, not just the women on the panel."
"I also hope that people there meet new collaborators, that at least one new project gets off the ground because of this. No," she qualifies. "More than one!"
It's all gotta' start somewhere.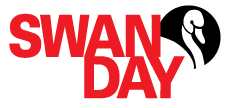 Due to rain, the venue for the March 25 Collaborations Conversation is now the Topanga Christian Fellowship Church at 269 Old Topanga Cyn Rd (near Inn of the Seventh Ray). Event Info Here. For updates contact theatremab@gmail.com or phone 805.750.9885

Pacific Resident Theater's Triple Threat:
A Play Written, Chosen, and Directed by Women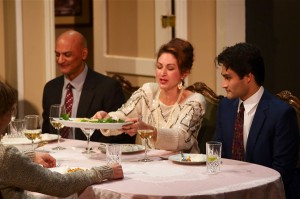 For the second work of its 25th season, Pacific Resident Theatre produces The Indians are Coming to Dinner — a work written and directed by women. Does being female make PRT's artistic director Marilyn Fox more receptive to women playwrights and directors?

When LA FPI's Alison Hills talked to the show's playwright, Jennifer Rowland, and director, Julia Fletcher, about their collaboration on The Indians are Coming to Dinner for our friends at LA STAGE Times, neither woman was sure. Fox knew Rowland's work through her participation in PRT's writing group. Fletcher, as PRT's founding artistic director, was also familiar to Fox. The low number of female directors hired and playwrights produced by L.A. theaters puzzled both women. Fletcher found theater's continued bias against women baffling. She cited the example of a woman director who consistently directed award-winning shows at her own North Hollywood theater for 30 years. Even with this excellent record, bigger theaters did not hire her. They both believed the bias was unconscious. To counter this bias, LA FPI will feature female directors, artistic directors, and playwrights on this FPI files page.

Hills' article about Fletcher's and Rowland's collaboration from LA STAGE Times appears below.
PRT Founder Fletcher Returns With Rowland's Indians
Sandwiched between two beauty salons on Venice Boulevard, the three-stage Pacific Resident Theatre (PRT) complex does not look like the home of a critically acclaimed theater company celebrating its 25th season. No play title has yet appeared on the marquee when I arrive to interview the director and playwright of PRT's upcoming show — the premiere of Jennifer Rowland's comedy, The Indians are Coming to Dinner, directed by PRT's founding artistic director Julia Fletcher. Frosted glass and white boards cover the store-front windows.
But once I'm inside, those first impressions change. Maroon, velvet curtains frame the entrance to a cozy room with three Victorian-styled, cushioned couches, an upright piano, and walls covered with photos from past shows.
Who Needs The Dramatists Guild?
WE DO! How fantastic to have such a terrific organization behind the LA FPI from its inception. The Dramatists Guild of America has invaluable resources for its members – playwrights, composers and lyricists – and a local Regional Rep who's one of the most generous and accessible humans on the planet. (Yes, this in Hollywood.) Visit dramatistsguild.com, tell them the LA FPI sent you, and let the love fest continue.

The Fabulous Taste of Bitter Lemons
We're huge fans of Enci, a Bitter Lemons author and one of the first artist/activists in the LA theater scene to proudly proclaim, "I'm with the FPI!"
She's promoted the FPI and other mouth-puckering ventures on an edgy site which is "Bringing the Los Angeles Theatre Community closer together, "Whether It likes it or not." For stage-centric musings and video interviews from the Bitter Lemons crew, visit bitter-lemons.com. You can also read about Enci's adventures at illuminateLA.com