Know a female or FPI-friendly theater, company or artist who deserves attention? Contact us at lafpi.updates@gmail.com.
About Mary Steelsmith, Playwright
By Marguerite Fair
Attracting wonderful people is a special gift with which I am blessed. A couple of weeks ago, I attended a Female Playwrights Initiative meeting at the Samuel French Bookstore down on Sunset Blvd. in Hollywood, CA.  That's where I had the delightful experience of meeting the lovely and talented Mary Steelsmith, an internationally, award-winning playwright.  It was obvious that my first writing assignment for the Female Playwrights Initiative website would be about Mary, her unique story and amazing talent as a playwright.
In 2012, Mary was chosen to take her Helford prize-winning full length play, "Isaac, I am" to Stockholm, Sweden, where it was presented to an audience at the Women's Playwrights International Conference.  Mary noted that it was a rare and wonderful experience to have the opportunity  to make new friends from Australia to Palestine and Afghanistan to Kenya. It is easy to understand why people want to keep in touch with Mary. She is kind and warm person who emanates a joyful and positive energy.
Mary's talent for creating unique and spectacular ten minute plays is a true statement about the level of her talent.  Mary's plays have been seen at many venues, some of which are The Secret Theatre in New York;  "DC Swan Day" at the National Museum of Women in the Arts, in Washington DC; Goshen College Winter One Acts/Goshen College Theater; Western Michigan University Directors' Festival of New Works and many other impressive stages.
When the question was asked "Is there a writer or other person whose work you admired or has inspired you?" Mary's quick response was about her mother Cassie who was born in Watts, California in 1913.  Five years later Cassie and her family took a horse-drawn wagon and homesteaded in Southern Idaho.  During World War II, with her dad being an enlisted man, Mary's mom supported the family as a reporter for the local newspaper and was paid by the word.  Her articles about the latest Campfire Girls Social function –  including the names of each girl, mother, what each brought for the potluck and the recipes – made the articles popular and well-received.  By the time Mary's dad returned from overseas,  Cassie had paid for the house.  Mary was born eleven years after the war ended and she naturally fell in love with writing and story-telling.
Mary became aware of her strong writing voice when she became angry about the ending of " The Diary of Anne Frank."  As quoted by Mary regarding her reaction that kicked her into a creative writing mode: "We read the play in Junior High School English class and were supposed to write essays about it.  Being 14, I found it unthinkable to find out that Anne didn't get away. So, instead of writing an essay, I wrote a new ending to the play, where just as the Nazis are marching up the stairs, Anne and Peter find a secret, secret room and get away.  I was given a lower grade for not following the teacher's instructions."  The moral to Mary's story is find your voice and write it your way.
I asked Mary how she became involved with the concept of writing ten minute plays. She stated that since her theatrical education consisted of watching the classics on TV, such as The Twilight Zone and the Loretta Young Show, she learned early-on that the economy of story and well-rounded characters were the two major ingredients to write complete and interesting short plays.
Mary admits to being painfully shy and  that writing enables her to deal with it.  When I asked what would she suggest to inspire younger women, she stated simply: "I would like to assure them that writing something – a story, poem, play, etc. – can save the writer as well as the reader. No matter how good or strange it is, keep writing. Writing saved me. It still does."
Presently, Mary has two full-length plays that she is in the process of drafting. In addition, she is excited about her play "Seldom is Heard" that will be part of the Kauai Shorts 2013 Festival in Hawaii this August (2013).
Also,  look for Mary's new ten minute play: "Dancing With Sherpas" that  will be part of the ALAP/Celebration Theatre reading festival on Saturday, June 15, 2013. Visit laplaywrights.org.
For more information on Mary's awards, projects and events, please go to www.MarySteelsmith.com.
I just love Mary's great sense of humor, so evident when asked her favorite quote: "All's well that isn't swollen."
Thank you Mary Steelsmith, I am delighted to have met you!
–Marguerite  Fair
"Tactical Reads" Begin June 27 at Atwater Crossing
What's the point of another reading series?
No, really, I ask myself this question all the time, especially when I am listening to plays that are uninteresting, which will never be produced, under work lights, and there is no wine.
The idea for Tactical Reads came about because I was sitting around in apartment contemplating how I was going to get in touch with female playwrights who wrote plays that riveted me specifically.  There are lots of wonderful plays out there by women, but how to find those that specifically spoke to who I am as a director versus the other brilliant female director sitting next to me?  And so it dawned upon me that perhaps I could start a reading series not for the writer, but for the director, that would inadvertently benefit the writer as well.
This made me nervous because all of a sudden I felt self-serving, as if looking for material that interested me directorially was a sin that would be punished in some not-so-benign theater hell.  But playwright Jennie Webb said this was "crack for writers," to have directors actively searching for their work, and so I knew that I didn't have to limit myself in starting a reading series that was more development and writer-based, but that I could really go for something a bit more product-oriented.
And so the child of Tactical Reads was birthed.
Why "tactical?"  Because we are moving with purpose to find collaborations between female writers and directors that will actually go somewhere.
Tactical Reads will be held every other month, and it is my hope that by next summer we as an Artistic Committee can find one play that we are excited about working toward producing.  The Artistic Committee, which is small now and growing, is composed of play readers who are also directors searching for the kind of material that interests them.
The Tactical Reads will be followed by a brief talkback moderated with specific questions as to the future of the play at hand, with emphasis on
a.  whether the play is ready to be produced,
 b. thoughts about the specific directorial interpretation and choices made in the reading,
 c.  what is the play's audience?
and
d.  what steps can be taken toward producing ends in the future?
Tactical Reads is excited to get its start at Atwater Crossing, the perfect place to grab a bite and a drink, then share new work at one of their performance spaces.  Future reads will be held jointly with our LA FPI Gatherings.  This means we'll now will have a regular schedule and a live event to accompany all the networking, gossiping, and, well, wine.


The first Tactical Read will be Strawberry by Paula Cizmar on June 27th at 8 pm. 
We'll gather at 7 pm to play catch up, scheme and welcome new LA FPI Instigators.
See you there.
–Sabina Patsznik
Click Here for more event details. (Visit atwatercrossingkitchen.com for directions, a menu and info on this wonderful venue run by great people!)
Click Here for more Tactical Reads information.
LA Theaters Come Together in a HeatWave
New Environmental Project Kicks Off Saturday, June 9th
Global warming? 
There's plenty of dramatic conflict to be found in the earth's rising temperatures.
And there's plenty theater artists in LA can do about it, if we do it together.
At least that's the way artist and award-winning designer Stephanie Kerley Schwartz looks at it.
"Like a lot of my friends and colleagues, I'm personally very active in fighting for the environment," she says.  "And over the last few years I've seen more and visual artists connecting to the green movement, creating art and participating in Earth Day events.  But nothing was happening in the theater community."
Working with Rogue Machine Theatre, she reached out to LA theaters, theatermakers and playwrights, hoping they'd share her goals of
generating new works focused on the environment
promoting and facilitating green practices in theater operations and production
connecting  theater artists to environmental activists
The Los Angeles Female Playwrights Initiative is proud to be one of the first to make the commitment!
HeatWave launches on Saturday, June 9th from 9:00am – 4:30pm with a participatory and community-building conference, hosted by Tree People.  Open to the public, the day's events include speakers, entertainment and break-out sessions encouraged to match playwrights and producers with LA-area environmental groups.
Future happenings include opportunities for playwrights and directors to be involved in the HeatWave Inagural Readings Series in January, 2103, and the HeatWave Earth Day Festival, Friday, April 19 – Sunday, April 21, 2013.
Visit http://HeatWaveTheatre.org for more information about the project, to sign on as a participant, to volunteer, or to reserve for the HeatWave Conference.
"In LA, we have a strong sense of community among theaters and artists," Stephanie continues.  "But with the pressing environmental issues facing us, I wanted to find a way to channel our energy and creativity in a way that makes us look outside of ourselves.  By working together, we can have real impact within the community and beyond it."
The first HeatWave Conference will take place Saturday, June 9th,  9:00am – 4:30 pm at TreePeople, 12601 Mulholland Drive, Beverly Hills, CA 90210.  Admission is $25, to cover the cost of refreshments and lunch.  Reservations are required.  Visit heatwavetheatre.org or call 323-405-7557 for more information.
A New Collaborative Start on March 25th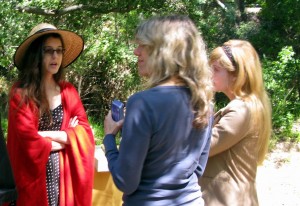 Where do the seeds of new projects come from? 
"It's kind of funny: this one was born from deceit," says Ella Martin.
Ella's an active theater artist who was LA FPI Study Director for last year's examination of women playwrights on LA stages.  She's also Artistic Director of Theatre Mab Town Hall, and it was while she was doing a quick change of actor/playwright/director/producer hats while dishing with a few close colleagues that she hit upon the idea of a Collaborations Conversation: a panel of extraordinary women theater professionals coming together to share their experiences as collaborators, which would then create a springboard for new collaborative projects.
So, what's deceitful about that?
The whole thing started as surprise party for a playwright pal; the ruse was that the birthday girl thought she was showing up for a panel focusing on collaborations.
"Well, she got very excited about this panel that wouldn't exist," Ella explains. "And as we kept taking about it at one point I said, 'Wait: That really is a good idea!  Should we see if we can really do it?'  So now we are!"
In making her plan a reality, Ella connected with WomenArts SWAN Day and reached out to artists she's worked with in the past, including Theatricum Botanicum Artistic Director Ellen Geer; Dale Franzen, Founding Director of The Broad Stage; Cal Arts' Marissa Chibas; Santa Monica Rep Co-Founder Jen Bloom; actress/director Susan Angelo; and frequent collaborators Mary F. Casey and Ann-Giselle Spiegler.
"All of these women come at collaboration from different directions," Ella says.  "But many of them have or have had a professional relationship. I wanted to emphasize the overlap; the fact that we are all connected.  We sometimes work with people once or twice, or repeatedly over many years, but – especially as women – it's often relationships that can carry you through in a very concrete way."
Ella stresses that the Collaborations Conversation itself won't be a dry panel discussion; there will be no complaining, whining, dumping or needlepoint.
"This is not stitch n' bitch," says Ella, smiling, but in a way that you know she's serious. "I hope everyone enjoys sharing laughs and experiences;  it's important to me that everyone who comes takes an active part in the conversation, not just the women on the panel."
"I also hope that people there meet new collaborators, that at least one new project gets off the ground because of this.  No," she qualifies.  "More than one!"
It's all gotta' start somewhere.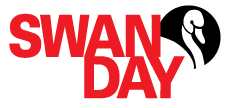 Due to rain, the venue for the March 25 Collaborations Conversation is now the Topanga Christian Fellowship Church at 269 Old Topanga Cyn Rd (near Inn of the Seventh Ray).  Event Info Here.  For updates contact theatremab@gmail.com or phone 805.750.9885

Pacific Resident Theater's Triple Threat:
A Play Written, Chosen, and Directed by Women
For the second work of its 25th season, Pacific Resident Theatre produces The Indians are Coming to Dinner — a work written and directed by women. Does being female make PRT's artistic director Marilyn Fox more receptive to women playwrights and directors?

When LA FPI's Alison Hills talked to the show's playwright, Jennifer Rowland, and director, Julia Fletcher, about their collaboration on The Indians are Coming to Dinner for our friends at LA STAGE Times, neither woman was sure. Fox knew Rowland's work through her participation in PRT's writing group.  Fletcher, as PRT's founding artistic director, was also familiar to Fox.  The low number of female directors hired and playwrights produced by L.A. theaters puzzled both women.  Fletcher found theater's continued bias against women baffling.  She cited the example of a woman director who consistently directed award-winning shows at her own North Hollywood theater for 30 years.  Even with this excellent record, bigger theaters did not hire her. They both believed the bias was unconscious. To counter this bias, LA FPI will feature female directors, artistic directors, and playwrights on this FPI files page.

Hills' article about Fletcher's and Rowland's collaboration from LA STAGE Times appears below.
PRT Founder Fletcher Returns With Rowland's Indians
Sandwiched between two beauty salons on Venice Boulevard, the three-stage Pacific Resident Theatre (PRT) complex does not look like the home of a critically acclaimed theater company celebrating its 25th season. No play title has yet appeared on the marquee when I arrive to interview the director and playwright of PRT's upcoming show — the premiere of Jennifer Rowland's comedy, The Indians are Coming to Dinner, directed by PRT's founding artistic director Julia Fletcher. Frosted glass and white boards cover the store-front windows.
But once I'm inside, those first impressions change. Maroon, velvet curtains frame the entrance to a cozy room with three Victorian-styled, cushioned couches, an upright piano, and walls covered with photos from past shows.
Who Needs The Dramatists Guild?
WE DO! How fantastic to have such a terrific organization behind the LA FPI from its inception.  The Dramatists Guild of America has invaluable resources for its members – playwrights, composers and lyricists – and a local Regional Rep who's one of the most generous and accessible humans on the planet.  (Yes, this in Hollywood.) Visit dramatistsguild.com, tell them the LA FPI sent you, and let the love fest continue.

The Fabulous Taste of Bitter Lemons
We're huge fans of Enci, a Bitter Lemons author and one of the first artist/activists in the LA theater scene to proudly proclaim,  "I'm with the FPI!"
She's promoted the FPI and other mouth-puckering ventures on an edgy site which is "Bringing the Los Angeles Theatre Community closer together, "Whether It likes it or not."  For stage-centric musings and video interviews from the Bitter Lemons crew, visit bitter-lemons.com.  You can also read about Enci's adventures at illuminateLA.com


Hats Off to the LA FPI early supporters whose generous donations and assistance helped give the movement a kick start, including Nancy Beverly, Debbie Bolsky, Jami Brandli, Robin Byrd, Karen Dee Carpenter, Susan Cartsonis, Mary F. Casey, Cynthia Ferrell, Paula Cizmar, Ellen Geer, Diane Grant, Larry Dean Harris, Velina Hasu Houston, Katherine James, Jon Klein, Amy Kramer, EM Lewis, Valerie Manahan, Ella Martin, John Park, Analyn Revilla, Vasanti Saxena, Tami Tirgrath, Laurel Wetzork, The Will Geer Theatricum Botanicum, The Los Angeles Women's Theatre Project, The Dramatists Guild, The Victory Theatre Center and Rogue Machine Theatre.

Web Hosting sponsored by Act of Communication.
Tweet