If what we're doing speaks to you, there's no time like now to get involved!  Check out our Current Needs, join us at one of our upcoming Events, and in the meantime…

Playwrights:
Producers and theaters:
Join the FPI, then check out our Resources to find women playwrights and theater artists.
Let us help you find an audience through LA FPI's Twitter & Instagram presence and Facebook community.
Support what we're doing by helping us spread the word! Contact us for Badges to give to your patrons.  Display our Logo on your programs, promotional materials and websites.
Theatergoers and theater artists :
Throw your weight around, and make it a point to see plays by women on LA-area stages. Better yet, bring some friends with you.  There is strength in numbers – especially at the box office.
Find out where to go and see Women at Work Onstage.
The next time you're in a theater, look for our Logo.  If you don't see it on a program, ask:  "Why aren't you with the FPI?"
We're especially looking for those of you who are willing to volunteer to take an active, hands-on role as we continue to grow. Our needs right now?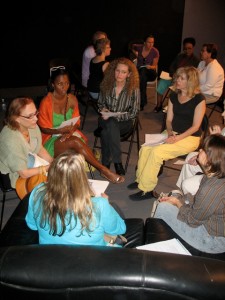 Someone savvy with WordPress who's willing to lend an online design hand
Someone who can help reach out and organize groups to see plays by women in LA
Tell us if you can help out in of these areas, or if you have another idea and you're ready to run with it!
photo by Larry Dean Harris