In November, ALAP sponsored a panel about the fight for equal opportunities by women playwrights, with writers Jean Colonomos, Kristen Lazarian, Jan O'Connor, and me, moderated by Dan Berkowitz. One of the things we agreed upon was that women playwrights in the theater who make it to the top are the exceptions to the 20% rule.
I wondered who they were and how they made it into the rarified spheres.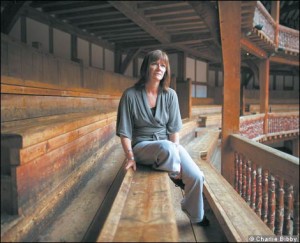 Nell Leyshon at the Globe
One of the most rarified must be Shakespeare's Globe in Stratford On Avon, which commissioned a woman, Nell Leyshon, to write a play for the theater for the first time since 1599. Bedlam, based on the real 18th century Bedlam lunatic asylum, in London, opened at the Globe in 2010, only 411 years after it began.
As the opportunities for women in British theatre don't seem much different from those in L.A. – only 23% of directors are female and fewer than a fifth of playwrights getting work staged are women – I don't know if I was more astounded to hear the Globe never had a play written by a woman or that they'd broken down and commissioned one.
However, Dominic Dromgoole, artistic director of the Globe, seems to be on our side. He's said: "There was a rather dull masculinity which was in favour in the 1990s. That was the fashion then, but women seem to be coming back in at the moment." Leyshon says that women are benefiting from the "snowball" effect, and are being spurred on by each other's success: "When you have women who do it, you get a build-up of self-belief."
Of writing for the Globe, Leyshon says, "It's something that had to be done. It's like losing your virginity."
I hadn't heard of Leyshon, who was born in Glastonbury, England, and lives in the county of Dorset. She began writing short stories and novels while studying English at Southampton University and taking care of her first child at the same time. After she graduated, she had another son, took on teaching to pay the bills, and is currently a Visiting Fellow at the University of Southampton.
She didn't write her first play until she was forty.
When she started writing for theater, Leyshon recalls, people would say, "'She's a woman writer,' and I didn't understand that. You'd never say, 'She's a woman novelist' or, 'She's a woman journalist.' But in theatre, you do."
Before she began dramatic writing, she had her moments of despair. She says, "I think women often have problems with self-belief, which sounds a bit boring, but they do." In 2000, she built a bonfire in her garden and burned all her early work.
When she wrote a radio play, she said, "The feeling was electric." The radio play, which she co-wrote with Stephen McAnena, won the Richard Imison Memorial Award 2003 for the best dramatic work broadcast by a writer new to radio. She now writes regularly for the BBC. Her play Comfort Me With Apples won her the Evening Standard award for most promising playwright. Then her adaptation of Daphne du Maurier's Don't Look Now opened in Sheffield in 2007, and transferred to the Lyric Hammersmith in London.
Bedlam got mixed reviews. Edward Glass of Online Review London, was one of the kindest, calling the play "almost worth the wait," writing that "The whole would have been magnificent, if the author had pushed the boundaries more and the darker moments of the play really had been dark."
It sounds to me like a marvelous spectacle. From Edward Glass again: "The play is packed with a wonderful rag-bag of humorous drinking songs, both Georgian and later, all complemented with ingenious choreography. The best were the song about a gin bottle (which goes astray in a marital bed) and the cheeky Oyster Nan, about a girl who shuts and opens like an Oyster…Characters sail through the standing audience in a two man gondola, and the bedlamites water the stage causing flowers to pop up from nowhere to the tune of An English Country Garden. The fan dance in the Vauxhall Pleasure Gardens (my favourite scene of the play) provided a visual delight."
I've now seen three Shakespeare plays from the Globe at the Broad in Santa Monica, Love's Labour's Lost, The Merry Wives Of Windsor, and A Comedy of Errors, and have been knocked out every time by the quality of the productions. The Broad is bringing over a Globe production every year and I'm hoping that soon, I'll see a revival of Leyshon's Bedlam in Santa Monica and more from women playwrights at the Globe to follow.