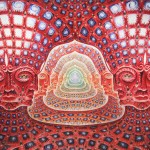 Our lives move along its path in varying degrees of speed and directions.  Like any journey it's a sound practice to stop and re-orient ourselves to make sure we're not deviating from our target destination.
 In my Yahoo! inbox this morning I found an email from the Dramatists Guild Women's Initiative.  In reading the content it echoed a lot of what LAFPI is all about.  The email from the Dramatists Guild was an excellent reminder of why I'm part of LAFPI.
Revisiting the goals listed in our website is the same as revisiting personal affirmations we make to align ourselves towards our true path as we move from the micro to the macro in our vision of the shaping of our lives.  The micro influences the macro and vice versa.  The analogy that comes to mind is the 3rd law of Newton's Law of Motion of action-reaction where as described in Wikipedia as:
The mutual forces of action and reaction between two bodies are equal, opposite and collinear.
This means that whenever a first body exerts a force F on a second body, the second body exerts a force −F on the first body.
F and −F are equal in magnitude and opposite in direction. This law is sometimes referred to as the action-reaction law, with F called the "action" and −F the "reaction".
A synopsis of the newsletter talks about:
 An "Access Event" in New York, NY which will give writers direct access to people who are in decision making roles.[1]
 The first conference on Women in Theatre: Achieving Gender Parity. [2]
 A general meeting with the topic of  "What am I doing to further parity for women in the American theatre that doesn't cost any money?"
This last one really stuck an elbow to my side.  I'm reminded to go to my acting studio and ask if they would be willing to support LAFPI in using our logo. 
Asking has always been a weakness for me when it comes to some form of charity.  I'm reminded of a friend who called me recently to ask for a donation for her husband's political campaign.  I empathized with her when I heard the hesitation exhibited by pauses, carefully selected words, the sighs and mostly the apologetic tone of her voice. After hearing her out, I wondered how the experience for both of us could've been different.  I'm changing my viewpoint from "charity" to "how it benefits" the studio to have the LAFPI logo and supporting what we're trying to achieve.
We're always championing change as a sign of progress and it takes a lot of courage and action to make it happen.  A segway into Newton's first law of motion often referred to as the law of inertia:
An object that is at rest will stay at rest unless an unbalanced force acts upon it.
An object that is in motion will not change its velocity unless an unbalanced force acts upon it.  (source: Wikipedia)
The direct translation in my situation is "Stop procrastinating and just ask the studio if they are willing to support the LAFPI cause."  I gain more by asking even if I don't convince them the first time around. 
For completeness sake I'll include the 2nd law.  F=ma.  I think it's like the force is proportional to the rate of change (the acceleration) and inversely proportional to the mass of what we're trying to change. 
We need a lot of force to make the change.  As seen on the page that declares our mission statement "And now the real work begins!"
The Los Angeles Female Playwrights Initiative was created with the following goals:
To create an awareness of the facts: women playwrights are critically underrepresented on the American stage.
To advocate for female playwrights based Los Angeles – specifically by creating an active nexus between theaters, companies, organizations and theater artists who want to produce, promote and employ women playwrights.
To investigate and report the accurate history of producing organizations and plays by women in the Los Angeles area in the 21st century.
To recognize and support LA-area theaters who produce, promote and employ female theater artists through sharing our logo and advocating for – and attending – their productions.
To open channels and create opportunities for women playwrights, and by extension all women theater artists, in Los Angeles and beyond.
Before the end of my blogging week I will report on how I did with asking the studio to support LAFPI.
---
[1]
Event organizer Raquel Almazan said, "I feel access events are necessary because exposure to mid and large theatres, playwriting residencies, fellowships, and development opportunities are difficult to access.  This is especially true for writers who do not come from prestigious academic institutions, are not represented by literary agents, or who work outside the well made play content and structure." 
[2] This event event marks the first anniversary of the DG Women's Initiative whose mission is to identify and address the challenges facing women dramatists, and develop action steps to advance and sustain fairness, equality and gender parity for all dramatists.  The keynote speaker for the Symposium is playwright, Julia Jordan, and features two panels moderated by Julie Crosby, producing artistic director of the Women's Project, and playwright, Tina Howe.  Confirmed panelists include: Tessa LaNeve, literary manager of Primary Stages; Linda Chapman, associate artistic director of New York Theater Workshop; Beth Bickers, agent with Abrams Artists; Emily Mann, artistic director of McCarter Theater; playwrights Annie Baker and Winter Miller. Additional panelists will be announced.  We look forward to welcoming those of you who are coming to New York to participate!